Festividad 9 Octubre: Programación Octubre Cultural 2016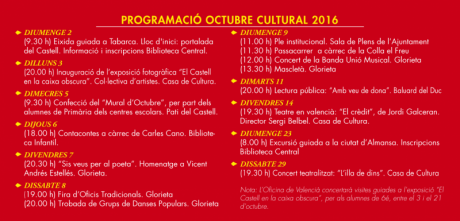 Description:
Programa de fiestas
Dates:

Starts: 05/10/2016
Ends: 30/10/2016
El Ayuntamiento de Santa Pola, a través de la Concejalía de Cultura, ha programado las siguientes actividades para todo el mes de octubre con motivo de la celebración de la Festividad de la Comunidad Valenciaana del 9 de octubre.
PROGRAMACIÓN
DOMINGO 2 DE OCTUBRE
9:30 h. Visita guiada a la Isla de Tabarca. Punto de inicio: Portadala del Castillo-Fortaleza. Información e inscripciones en Biblioteca Central. Tlf. 966 692 773

LUNES 3 DE OCTUBRE
20 h. Inauguración de la Exposición de fotografía "El Castell en la caixa obscura". Exposición colectiva de artistas. Casa de Cultura.

MIÉRCOLES 5 DE OCTUBRE
9:30 h. Confección del "Mural d'Octubre" por parte de los alumnos de Primaria de los centros escolares. Patio del Castillo-Fortaleza.

JUEVES 6 DE OCTUBRE
18 h. Cuentacuentos a cargo de Carles Cano. Biblioteca infantil.

VIERNES 7 DE OCTUBRE
20:30 h. "Sis veus per al poeta". Homenage a Vicent Andrés Estellés. Plaza Glorieta.

SÁBADO 8 DE OCTUBRE
19 h. Feria de Oficios Tradicionales. Plaza Glorieta
20 h. Encuentro de Danzas Populares. Plaza Glorieta

DOMINGO 9 DE OCTUBRE
11:00 h. Pleno institucional. Salon de Plenos del Ayuntamiento.
11:30 h. Pasacalles a cargo de la Colla El Freu.
12:00 h. Concierto de la Banda Unió Musical. Plaza Glorieta
13:30 h. Mascletà. Glorieta
MARTES 11 DE OCTUBRE
20 h. Lectura pública "Amb veu de dona". Baluarte del Duque. Castillo-Fortaleza.

VIERNES 14 DE OCTUBRE
19:30 h. Teatro en valenciano "El crèdit" de Jordi Galceran. Director Sergi Belbel. Casa de Cultural.

DOMINGO 23 OCTUBRE
8:00 h. Excursión guiada a la ciudad de Almansa. Inscripciones en Biblioteca Central.

SÁBADO 29 OCTUBRE
19:30 h. Concierto teatralizado "L'Illa de dins". Casa de Cultura
Information compiled by:
TOURIST INFO SANTA POLA - CENTRO
Plaza Constitución, s/n, s/n
03130 Alicante
Phone: 966696052
Fax: 966696039
This office does not assume responsibility for sudden changes or variations of the events published on this site.