Festividad 9 Octubre: Programación Octubre Cultural 2015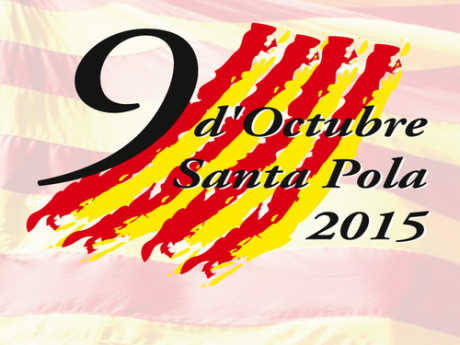 Description:
Grandes eventos
Dates:

Starts: 09/10/2015
Ends: 09/10/2015
El Ayuntamiento de Santa Pola, a través de la Concejalía de Cultura, ha programado las siguientes actividades para todo el mes de octubre con motivo de la celebración de la Festividad de la Comunidad Valenciaana del 9 de octubre.
PROGRAMACIÓN
MIÉRCOLES 30 SEPTIEMBRE (20'00 h.)
Inauguración de lA exposición colectiva "Santa Pola y l'Art del Misterio d'Elx". Casa de Cultura.

VIERNES 2 (12'00 h.)
Conferencia "El Misterio d'Elx" a cargo del profesor de la UA, Hèctor Càmara. Actividad dirigida al alumnado de Secundaria. Casa de Cultura.

VIERNES 2 (19'00 h.)
Espectáculo musical infantil, a cargo de Dani Miquel y los MA-ME-MI-MO- MÚSICOS. Patio del Castillo.

DOMINGO 4 (9'00 h.)
Salida urbana a pie. Salida portalada del Castillo.

JUEVES 8 (10'30 h.)
Confección del "Mural d'Octubre" con cargo a los alumnos de primaria de los centros escolares. Patio del Castillo.

VIERNES 9
Plleno institucional (11'00 h.) Salon de Plenos del Ayuntamiento.
Pasacalles a cargo de la Colla El Freu. (11'30 h.)
Concierto de la Banda Mare de Déu de Loreto (12'00 h.) . Glorieta
Mascletà (13'30 h.) . Glorieta

VIERNES 9
Feria de octubre. Muestra de productos del Bajo Vinalopó. Plaza Glorieta.

VIERNES 16 (19'30 h.)
Teatro en valenciano. Compañía Ornitorrincos: "Mort a l'acte". Casa de Cultura.

VIERNES 23 (19'00 h.)
Inauguración de l'exposició "200 anys d'autonomia municipal". Sala Municipal d'Exposicions.

DOMINGO 25 (8:00 h.)
Excursión guiada a Ontinyent. Inscripciones Bibliotecas Municipales. Visitas a: Barrio Medieval, Iglesia Gótica de Santa María, Museo Festero, degustaciones embutido y pastelería Mora. Precio viaje 15 € (sin comida) Precio comida 12 €

JUEVES 29 (20'00 h.)
Proyección de imágenes de la Campaña "Recordes Santa Pola". Casa de Cultura.

Más información:
Casa de Cultura
C/ Elche, 24
Tlf: 966 692 776
Information compiled by:
TOURIST INFO SANTA POLA - CENTRO
Plaza Constitución, s/n, s/n
03130 Alicante
Phone: 966696052
Fax: 966696039
This office does not assume responsibility for sudden changes or variations of the events published on this site.