Sagunt a escena, a summer full of art
Publishing date 15/07/2016
Summer is not at odds with culture and an unequivocal proof is Sagunt a escena, a festival that combines the best trends in performing arts with holidays, the sun and the beach. Come to Sagunt and enjoy a summer full of art.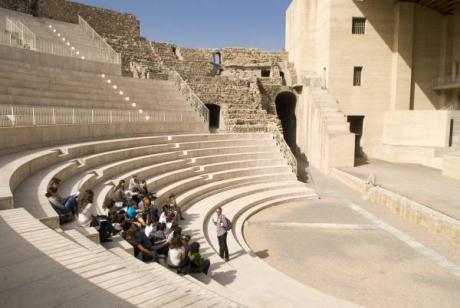 Sagunt hosts between 21st July and 10th September Sagunt a Escena, a performingarts festival that takes place in two stages, the Roman Theatre and Off Romà, including 27 shows and the participation of four hundred artists including actors, dancers and musicians. This year, there will be the performances of artists such as Concha Velasco (Reina Juana), Estrella Morente, Antonio Canales y Aída Gómez (La Guerra de las mujeres) Maria del Mar Bonet, la Jove Orquestra de la Generalitat, Valencia Big Band & Pedro Iturralde

This edition, Sagunt a Escena combines classical performances with other more contemporary and innovative in a unique setting of historical heritage: the Roman Theatre.

Theatre, dance, music and the new circus in all its styles make up the line-up. The proposals include from the great classics pieces of theatre to the most recent works by young playwrights, choreographers, musicians, actors and dancers.

'Només són dones' dirigido por Carme Portaceli,'Madre Coraje' de Atalaya, 'La hostalera, última función' de Goldoni, 'Innerland', Jerez-Texas' s concert, or classical theatre plays such as 'Fedra', de Perros Daneses, 'Las Bacantes', de Sennsa Teatro o"Sónnica y Acteón" are some of the proposals for the stage of the Roman theatre. There will be also new circus performances that merge together music, dance, humour and acrobatics by 100 Racines, Circ Bover, Mumusic Circus,the cocktail of the APCCV, Circo Gran Fele y Xa! Teatre and as Dance; Otradanza con 'Juana', Thomas Noone Dance con 'Medea' or el flamenco de 'Libertino', de Marco Vargas y Chloé Brûlé and the program is completed by the cabaret musical 'Two ladies or not two ladies' de Cashalada Cia,'Huellas en la arena'de Didi Rodan, 'Olea' de Visitants, 'Con dos coplas de más' o 'Heroidas'.