Visita a Pla de Nadal y Banquete Visigodo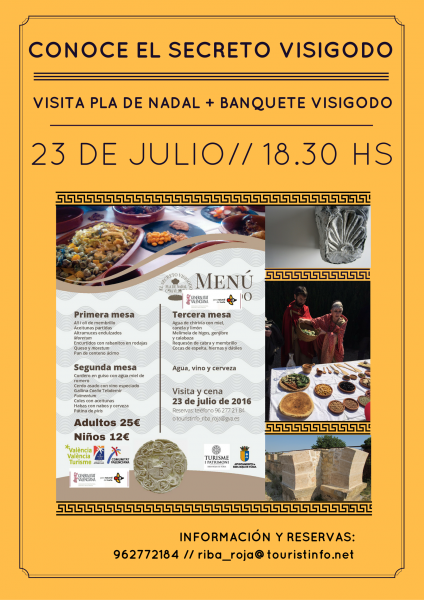 Description:
Actividades de ocio
Type: Rutas y excursiones
Dates:

Starts: 23/07/2016
Ends: 23/07/2016
¿Conoces el secreto visigodo?
Acércate con todos los sentidos a la cultura visigoda.
En Riba-roja de Turia existe un gran yacimiento de origen visigodo ubicado en las inmediaciones de la ciudad, mejor conocido como Pla de Nadal. La gran particularidad de este yacimiento es que constituye una de las pocas evidencias, en tierras valencianas, sobre arquitectura residencial visigoda. El complejo de Pla de Nadal es considerado una villa áulica de la Antigüedad Tardía y se sospecha que el famoso Teodomiro sería el fundador o propietario de esta quinta palaciega.
Luego de un periodo de excavaciones arqueológicas e investigación se recuperaron gran cantidad de piezas, ahora expuestas en el Museo de Pla de Nadal en el Castillo de Riba-roja de Turia. Así mismo, el sitio arqueológico fue restaurado y puesto en condiciones para la visita.
Desde hace tiempo, y todos los años, se realizan visitas teatralizadas a este sitio, en donde los señores de la villa nos dan la bienvenida, nos cuentan sobre el modo de vida de los visigodos, cómo vestían, cómo ejecutaban sus oficios y que tipo de comida consumían. Pero en esta ocasión, la experimentación y el acercamiento a la vida visigoda va más allá.
La Tourist Info Riba- Roja de Turia tiene programada una visita muy especial. El próximo 23 de julio por la tarde emprenderemos un largo camino para Conocer el Secreto Visigodo pero con todos los sentidos.
Comenzamos el recorrido en el MUPLA, visitaremos la villa de Pla de Nadal y para finalizar disfrutaremos del menú visigodo, en donde se recrearán los platos típicos de este pueblo. Podremos probar sabores nuevos, descubrir nuevos aromas y degustar sensaciones nuevas.
¡Invitamos a todos y todas a animarse a emprender esta aventura histórica y sensitiva!
INFORMACIÓN DE LA RUTA
//DÍAS
23 de julio
HORA//
18.30 horas
PUNTO DE ENCUENTRO//
Puerta del Castillo de Riba-roja de Turia. C/ Cisterna, 28.
//RECORRIDO
Comenzaremos conociendo el MUPLA, luego nos dirigiremos al yacimiento Pla de Nadal y finalmente disfrutaremos del menú degustación.
PRECIO//
25 € Adultos
12 € Niños (entre 4 a 12 años inclusive)
RECOMENDACIONES//
Agua, calzado cómodo y repelente de mosquitos.
INSCRIPCIONES Y PAGO//
Para reservar tu plaza debes inscribirte aquí. Plazas limitadas.
Information compiled by:
TOURIST INFO RIBA-ROJA DE TÚRIA (eng)
Calle Cisterna, 30
46190 Valencia
Phone: 962772184
Fax: 960615039
Email: riba_roja@touristinfo.net
This office does not assume responsibility for sudden changes or variations of the events published on this site.