JORNADAS DE ECONOMÍA CIRCULAR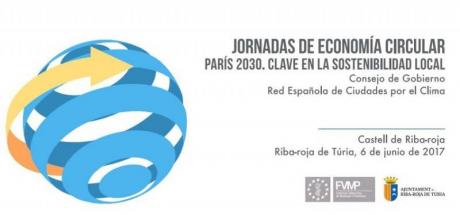 Encuentro, organizado en colaboración con la FVMP, Federación Valenciana de Municipios y Provincias, que pretende reunir a expertos de diversos ámbitos, empresarial, tecnológico y educativo procedentes de toda España.

El objetivo es analizar y conocer las mejores experiencias de reciclaje, gestión de residuos y aprovechamiento de recursos que se están llevando a cabo en el territorio nacional para minimizar su impacto en el sistema, así como debatir cuáles son las mejores fórmulas para financiar y optimizar la gestión de estos recursos.

Con esta apuesta, el Ayuntamiento de Riba-roja se suma al reto de la economía circular que pasa del patrón de 'fabricar-consumir-eliminar' a un modelo basado en la reparación, reutilización, el reciclaje y el retorno de productos al sistema para su vuelta al ciclo económico.

La cita servirá para profundizar en la importancia de la economía circular en el ámbito local y la responsabilidad de la Administración Pública, en la puesta en marcha de políticas encaminadas hacia el reciclaje y la reutilización de los productos a favor de la sostenibilidad.

En el marco de las Jornadas se celebrará la Junta de Gobierno de la Red Española de Ciudades por el Clima, de la que Riba-roja forma parte y que reunirá a 18 alcaldes de toda España.

El encuentro, el primero tras la firma de la Declaración de Sevilla el pasado 15 de marzo, se celebrará en la Sala de la Bóveda de El Castell y servirá para tratar entre otros aspectos la propuesta y aprobación de la participación de la Red en la iniciativa "La Comunidad por el Clima" o las Propuestas de colaboración de la Alianza por el Clima.
This office does not assume responsibility for sudden changes or variations of the events published on this site.