Casa Montaña Restaurant
Casa Montaña, the victory of tradition
Casa Montaña Restaurant
Chef: Roberto Lozano
Calle José Benlliure, 69
Tel +34 963 672 314

With over a century of history in the emblematic fishing quarter of the village Cabanyal in Valencia, Casa Montaña has maintained its winemaker spirit over the time. This establishment reflects the personality of each owner. "Since the Montaña family to myself, all of us have contributed to this place", says Emiliano García Domene, the alma mater of Casa Montaña.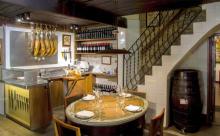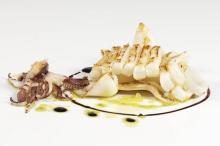 Casa Montaña was founded in 1836 as a grocery to provide oil, wine, Selters water and consumables to the fishermen and sailors. In the 40s, the business was transferred to a Frenchman. The new owner, who was known as Mr. René brought the delicious preserves that have made the store famous. Half a century later, in the early 90s, the artist Santiago Polo bought the business and in 1994 Casa Montaña was eventually taken over by Emiliano García, the current owner.

Undamagedfor over a century, the beautiful modernist facade leads into the building, which has become a place of worship thanks to traditional recipes made ​​with contemporary criteria that are the real house brand of its culinary activity.

The establishment, always lively, now is bigger and despite a slow redesign, has maintained its uniqueness, which is its true identity characteristic.

Nowadays Casa Montaña, still beautiful and Mediterranean, is a leader in the world of food and wine, where you can taste delicious anchovies from Santoña, marinated tuna, fresh squid, delicious Michirones (typical dish from Murcia), patatas bravas (fried potatoes in spicy sauce), salt cod croquettes and, of course, the real Valencian mussels. Excellent Iberian products, good beef and homemade desserts complete the gastronomic offer of Casa Montaña.

In Casa Montaña, it is certainly always better to share portions; some of his famous clients such as Prince Albert II of Monaco, Steven Chu, Nobel Prize; Alan Mulally, President of Ford, the actress Gwyneth Paltrow or the award-winning chef Ferran Adrià, can confirm that.
Recetas destacadas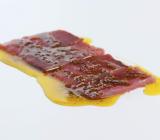 Put a layer of salt and another sugar in a bowl. Place tuna piece above and cover it with another layer of sugar and another of salt. Marinate a few hours. Wash the tuna, dry it with a soft cloth and...
Vinos recomendados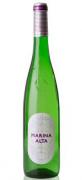 Bocopa´s Marina Alta is a classic white among the wines of Alicante and a model example of one of the most respected grape varieties: the Muscat of Alexandria. The selection, the level of maturation...