Xef Pirata
Fine cuisine with a rebel soul
Xef Pirata
Chef: Guillermo Ancina
Carrer de l'Àngel, 22
Tel +34 966 885 855

The Xef Pirata in Altea is a gastrobar which serves the highest cuisine in a casual environment, a place to share ideas and food which, of course, leaves its mark not only on the palate. And the creator of this is Guillermo Ancina, a true alchemist in the kitchen, a chef who prepares dishes to perfection in terms of doneness and seasoning, with an endless stream of new ideas.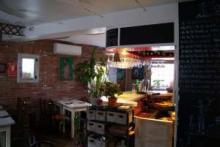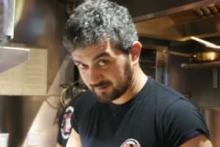 In the Xef Pirata, Guillermo Ancina cooks with pleasure, prepares plates and creates his original proposals with a rebel soul thanks to his inherent avant-gardism. His dishes are able to delight the most discerning palates and, in many cases, represent a time travel or an original fusion with the East.

Guillermo Ancina begun to study cooking in Argentina, at the International School of Gastronomy in Mendoza. After school, he started working at the 1884 Francis Mallman restaurant, where he completed his training. This opportunity opened him the door to travel to Europe. He arrived into Spain and soon after, in Altea, a village he turns into his new home. Taking the white villa as a base, Guillermo works in prestigious restaurants in Toulouse, London, Moraira, ​​Cadiz, Brighton, Ibiza and Barcelona.

Today, five years after its opening, the small and charming Xef Pirata is a leader of the Altea cuisine. In his kitchen, Guillermo adds value every day to the knowledge acquired throughout his career and combines it with taste in selecting products, recipes or plates ... And this intense dedication is the reason for his rapid growth.

In the menu, influenced by great chefs like David Reartes and Francis Mallman you can find homemade burgers, steak tartare, ceviche, foie gras ... In short, a great range of options to suit all ages, tastes and budgets.

The quality of raw materials is combined perfectly with the cascade of ideas from Guillermo. And the proof is his splendid mushroom and truffle croquettes, its highly refined flat bread with semi-smoked sardines, apple and foie or its exquisite scallops carpaccio in lime vinaigrette. We should also mention his textures canelloni and unsurpassed cheeks in their gravy with potatoes and truffle cream or lamb at low temperature and crispy herbs. His salads, burgers and original piadinas complete a short and remarkable menu, testimony of the balance within this restaurant, always true to itself.

But while the Pirata is the place where each day Guillermo faces the challenge of developing his avant-garde dishes, a true reflection of its good cuisine, it would not be the same without the kitchen and room staff like Tomás, Jesús, Adrián, and Stefan, whose support his work, and provide a friendly and almost flawless service.

The wine list at the Xef is interesting, original and complete with examples from Ribera del Duero such as La Planta or Damana, from Rioja such as Edulis or Arador and from Alicante such as Laderas del Sequé y Tarima. But if there is a wine in this cellar shining like a star with its own light, this is the Santa Rosa from Bodegas Mendoza, a special and very personal wine, a masterpiece by winemaker Pepe Mendoza.
Recetas destacadas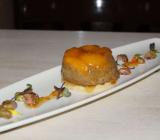 Mix the ingredients without kneading too much, put aside at least 30 minutes while we prepare loquats. Peel the loquats, cut them in halves, remove the seeds, add them to a pan with the water and...
Vinos recomendados

Santa Rosa, a wine produced in environmentally sustainable vineyards, is born out of the concerns of a family dedicated to the development and aging of wine. In Santa Rosa, a wine that captivates by...