Requena, Grape Harvest Party and Festivals.
Publishing date 28/07/2017
The Fiesta de la Vendimia (Grape Harvest Festival), declared of Tourist Interest in 1966, is considered the most ancient festival in Spain and one of the most important ones. Take part in the collective joy you feel when contemplating the treading of the first pendants of grapes from Requena.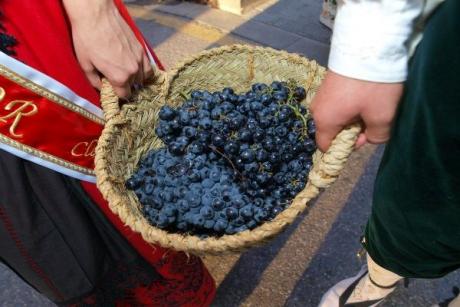 One more time, Requena celebrates the Grape Harvest Party and Festivals. An integrating, generous, different, popular and sober celebration, with a long tradition. Grapes, wine and joy are the main characters in this Festival. They are only waiting for you!

If we had to list some of the most representative acts of the Grape Harvest Festival, we would point out the treading and blessing of the first grapes, the free tasting of the delicious wines come from the Monumento Universal a la Vendimia (Harvest Monument) and the allegorical sources and the Nights of the Wine, of the Farmer, of the Requenense Ausente or the "Zurra". But you can also enjoy the Mediaeval Market, situated in the Barrio de la Villa, the parades and street performances accompanied by street bands and music for all the ages.

The Feria Requenense del Vino (FEREVIN) is one of the most important monographic manifestations about wines in the Region of Valencia. It has already consolidated its position as a firm reference for the wine sector, turning into the best display for the wines and wineries of the Denomination of Origin Utiel-Requena. If you are wine lovers, you mustn't miss this opportunity.
The Valencian village of Requena is worth visiting. It is one of the biggest municipal districts in Spain, with 814 km2 and 25 small localities. Routes for hiking or cycling, gastronomy, archaeological sites and natural spaces are some of the proposals to complete your visit. Besides, the tunnels of Requena add to the Cuevas de La Villa, the Museum of San Nicolás, and the Palace of the Cid or the Museum of the Wine as points of tourist interest.

Grape Harvest becomes a party in Requena, come and live it!