Requena, the municipality where the harvest is a party
Publishing date 3/08/2016
The Harvest Festival of Requena, held from the 24th August to the 4th of September 2016, dates back to 1947 and is a tribute to trod the first bunches of grapes that provide the land.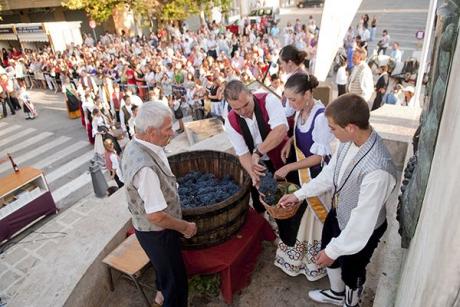 The Harvest Festival of Requena has the privilege of being the celebration that pays tribute treading the first bunches of grapes oldest in Spain. The first was held in 1947 and its essence is maintained since. The contest claims the social power of the wines and the union that is able to create a good broth accompanied by the gastronomic specialties of the area. Thousands of visitors flock each year to this declared celebration of National Touristic Interest. Why? Because it is one of the most unique and cultural festivals in Valencia Region and because you will have a great time.
It all started 60 years ago when a gathering of friends became a party. As every year the Harvest Festival will delight you with the proclamation of the queen, the night of the trashing, treading grapes and blessing of the wine, the wine night, the offering of flowers and fruits to the Virgin of Sorrows, the ride or burning memorial wine. Fromthe24th ofAugust to the 4thofSeptember 2016 do not make plans, Requena makethose plansfor you and it will not disappoint.
During those days, light and color flooded the streets of Requena, the 'mascletás', fireworks and music take the heavens, wines and sausages will conquer the appetiteof anyone who approaches this municipality full of history and natural and architectural heritage. Parallel to all this wine producers of the town willalsopresent their best wines and new releases during the fair. Whether you are fond with good taste as if wine is your passion, Requena is worth a visit for their big party.