Cold cuts from Requena are just waiting to be enjoyed
Publishing date 3/02/2014
Chorizo (spicy sausage), salchichón (spiced sausage), morcilla (blood sausage), salchicha (sausage), sobrasada (Majorcan sausage) or jamón (ham)… come to Requena to taste the best pork-based products over this week-end in the Quality Artisan Cold Cut Display. Cold cuts, buns and wine, all of them delicious!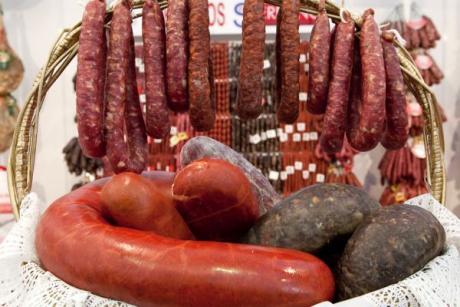 We are now in February and Requena is once again hosting her Quality Artisan Cold Cut Display , held from February 7 to 9. Take advantage of this weekend to taste some of the best meat products in the area, marinated with wines from the Utiel-Requena Denomination of Origin.

Participant butchers have prepared thousand of kilograms of hand-made cold cuts for the tastings, among which fresh longanizas (Spanish dry sausage) and onion morcillas (Spanish black sausage) stand out. You can also enjoy traditional chorizos and güeñas along with novel salchichones with dried fruits, cava-flavoured chorizo and sobrasada with olive oil and orange juice. The stalls also include pâtés, hams and handmade Bologna.

The display is a place full of colours, tastes and aromas, allowing you to enjoy exquisite food and a number of cultural and leisure activities. A new feature this year is the giant barbecue during the weekend for a big cold cut roast.

A craft fair and a funfair will also be in place near the display, as parallel activities.

During the display you will be able to visit the caves of the town, the homage tower, the municipal museum, the palace of El Cid, the Florencio de la Fuente museum of modern art, the Old Market exposition hall and the silk museum, as well as several regional wine cellars.

Visitors who wish to travel by AVE can benefit from a discount of up to 60% on train tickets from Madrid, Cuenca and Valencia to Requena. There are also incentives for short-distance trains.