II Festival de Cortometrajes Requena y ... ¡Acción!
Del 13 al 15 de junio de 2014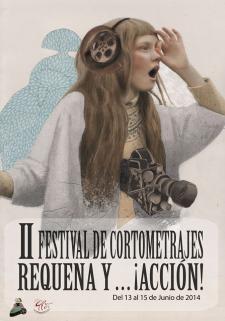 Description:
Actividades culturales
Dates:

Starts: 13/06/2014
Ends: 15/06/2014
PROGRAMACIÓN
VIERNES, 13 DE JUNIO
19´00 A 20´00 horas. En el Teatro Principal de Requena, GALA INAUGURAL de la II Edición Requena y ...¡Acción!. Con la presencia de Sergi Miralles que presentará su cortometraje Hidrólisis (Catalogo Curts 2012 de CulturArts).
22´00 horas. En la Sede del Centro Artístico Requenense (CAR), CAFÉ-COLOQUIO con los miembros del jurado del festival, directores e invitados.
SÁBADO, 14 DE JUNIO
16´00 a 16´30 horas. En el Teatro Principal, PROYECCIÓN DE LOS CORTOMETRAJES DEL CONCURSO ASTORIA.
17´00 A 18´15 horas. En el Teatro Principal de Requena. PRIMER PASE DE CORTOMETRAJES
Buenos Aires. Daniel Gil. 12
La verdadera revolución. Pablo Sola. 20
Fuga. Juan Antonio Espigares. 16
Mi vida es el cine. Bogdam Toma y Fernando Cayo. 20
Cólera. Aritz Moreno. 6
18´45 a 20´00 horas. SEGUNDO PASE DE CORTOMETRAJES
Otsoko. Ander Iriarte. 13´(VOSE)
Foley Artist. Toni Bestard. 18
Sangre de unicornio. Pedro Rivero. 8
Cuando todo pase. Suso Imberó. 20
Cerdos, piñas y otros mortales. Patricia Martínez. 11
20´30 a 21´30 horas. TERCER PASE DE CORTOMETRAJES
Ciudadano Torralba. Suso Hernández. 11
Metros útiles. David Cervera. 5
Efímera. Diego Modino. 18
Anacos. Xacio Baño. 7´(VOSE)
Sequence. Carles Torrens. 20´(VOSE)
23´30 horas. FIESTA DEL CINE con las mejores bandas sonoras de las películas.Rock Bar El Perro Verde. C/ Cervantes, 6 Requena.
DOMINGO, 15 DE JUNIO
17´00 a 18´30 horas. En el Teatro Principal de Requena, ÚLTIMO PASE DE CORTOMETRAJES
ERE, Expediente Regulador de Enchufes. Alicia Puig. 12
Pulse. Álvaro Martínez. 17´(VOSE)
Nadador. Dani de la Orden. 15´
La última tarde. Ruy Balañá. 10´
Sájara. Juan Martínez. 19´
19´30 a 21´00 horas. En el Teatro Principal de Requena GALA DE PREMIOS Y CLÁUSURA. Espectáculo, entrega de premios a los ganadores y homenaje al requenense Toni Novella.
This office does not assume responsibility for sudden changes or variations of the events published on this site.