Tapas in Puçol
Publishing date 30/08/2013
You can take the Tapas Route around Puçol anytime between 30 August and 9 September. Now in its third year, the event is being supported by 52 local bars and restaurants, who will be charging only two euros for a drink and a tapa. Come to Puçol for tapas... and bon appetit!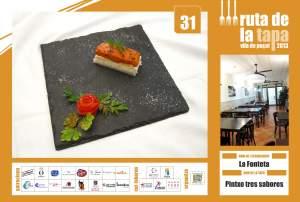 Puçol is holding its third annual Tapas Route from 30 August through to 9 September. New additions to the menu this year are the extended dates, meaning that the event will be running over two weekends, plus the record number of 52 bars and restaurants taking part and charging an affordable two euros for a drink and a tapa.
As in previous years, there is an overall theme, which helps to give the Tapas Route a bit of character. This year's event pays tribute to Puçol's old coaching inns, acknowledging their role in the town's early years.
The prizes for the winning tapas will be awarded on 9 October during the "Agrupación de Peñas" week. Remember, you have from 30 August to 9 September to decide which establishment deserves your vote.
You can't afford to miss it!
More information: