Festival 9th of October 2014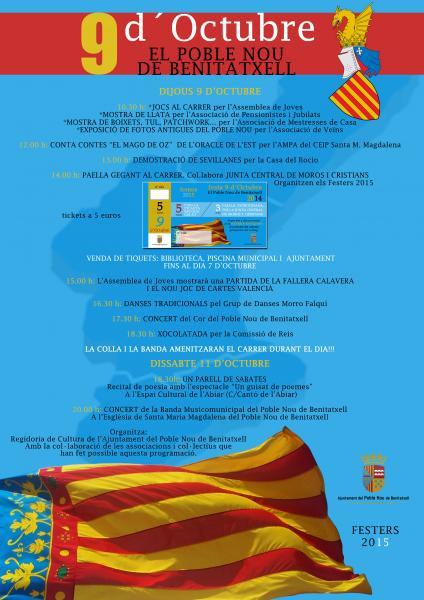 Description:
Actividades culturales
Dates:

Starts: 09/10/2014
Ends: 11/10/2014
THURSDAY9th of OCTOBER
10.30 h:
*ENTERTAINMENTS FOR KIDS offered by the Youth association
*DEMO OF BASKET WEAVING performed by Senior Citizens Association
*DEMO OF TRADITIONAL HANDCRAFTS: BOBBIN LACE, NET LACE AND PATCHWORK presented by Housewives Association
*EXPOSITION OF OLD PHOTOS of EL POBLE NOU presented by Neighbourhood Association
12 h: STORIES "EL MAGO DE OZ" DE L'ORACLE DE L'EST performed by the association AMPA from the college CEIP Santa M. Magdalena
13 h: SEVILLANAS DANCES performed by the group Casa del Rocio
14 h: PUBLIC LUNCH organised by the Festeros 2014.
GIANT PAELLA sponsored by the comisión of Morros and Christians.
PURCHASE OF TIQUETS: LIBRARY, RECEPTION OF INDOOR SWIMMINGPOOL AND TOWN HALL, TILL OCTOBER 7th
15 h: YOUTH ASSOCIATION presents entertainments and games
16.30 h: TRADITIONAL DANCE PERFORMANCE presented by the group Morro Falquí
17.30 h: CONCERT OF THE CHOIR from el Poble Nou de Benitatxell
18.30 h:HOT CHOCOLATE offered by the association of Three Kings
The Colla and the village band are playing in the street during the festival!!!
SATURDAY 11th of OCTOBER
18.30h: UN PARELL DE SABATES
Poetry recital "Un guisat de poemes" At the Cultural hall Abiar (C/Cantó de l'Abiar)
20 h: CONCERT of the village banda of el Poble Nou de Benitatxell at the church Santa Maria Magdalena of Poble Nou de Benitatxell
Organization: Cultural Department of El Poble Nou de Benitatxell in collaboration with local association and institution.
This office does not assume responsibility for sudden changes or variations of the events published on this site.