Peñíscola back to the time of Papa Luna
Publishing date 15/06/2016
The commemorative events around the figure of Papa Luna consist of performances, exhibitions, fairs and markets.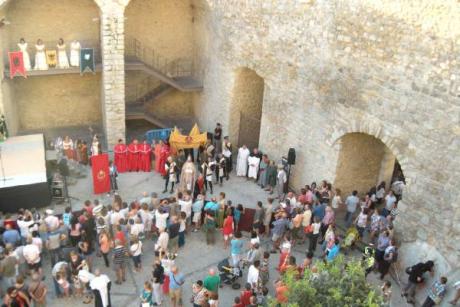 Peñíscola return for a few days to the Middle Ages and the time of Papa Luna. From the 23rd to the 26th of June, coinciding with the feast of San Juan, the Castellon town will demonstrate, once again, its status as papal city and papal seat, an honor it shares with Rome and Avignon. Do not miss the recreation of the pass through the city Pope Benedict XIII of Avignon, called the Papa Luna, one of the Spanish most universally known and controversial personalities, which made history during a very turbulent period of Christianity.

The commemorative events around the figure of Papa Luna consist of theatrical performances in the castle grounds based on the life of the pontiff, street animation with historical figures of the era, circus and puppet in the historical district shows, exhibitions, fairs and markets of the time. You can also enjoy a "batucada" with elements of fire on the 23rd at night, which will join the traditional celebrations on the eve of San Juan. Atmosphere, fiesta and history to honor the man who put Peñíscola on the map of Europe during the Middle Ages.

You can see the "Castillo del Papa Luna" in full swing. When the pope moved to Peñíscola in 1411 he turned the castle into pontifical palace and library, one of the most prominent of the time. The spectacular vantage point overlooking Peñíscola, welcoming the castle is one of the most beautiful views of Valencia and one of the most emblematic buildings. The old town is very well preserved, narrow stone streets and smell medieval Mediterranean. Peñíscola is a perfect place to travel in time.