XXXII Clclo de Conciertos de Música Clásica
XXXII Ciclo Conciertos de Música Clásica Ciudad de Peñiscola 2016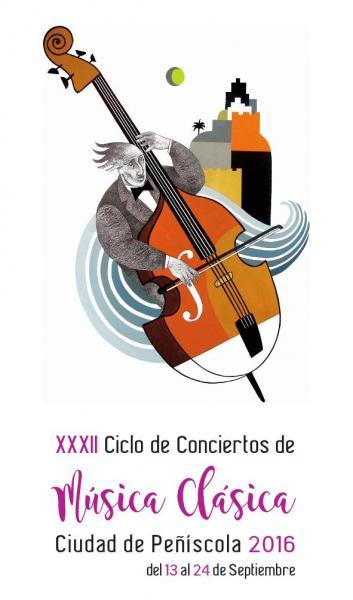 Description:
Actividades culturales
Dates:

Starts: 13/09/2016
Ends: 24/09/2016
Martes 13 de Spetiembre a las 22 hrs. Salón Gótico del Castillo RECITAL DE PIANO. Musica y Composición Carlos Bianchini. Entrada Libre.
Domingo 18 de Septiembre a las 12 hrs. en Iglesia de Santa Maria MISA Y PLEGARIA DEL PESCADOR. Música: Vittorio Cacciatori Coral Polifónica Peniscola. Entrada Libre
Martes 20 de Septiembre a las 22 hrs. en el Salón Gótico del Castillo VENT A CINC Olga Lluch Pio-Flauta, Marc Borrás Castell-Oboe, Oriol Navarro Valls-Clarinete, Davida Gilabert Durán-Fagot, Lorena Ventrua Serdà-Trompa .Entrada Libre.
Jueves 22 de Septiembre a las 22 hrs. en el Salón Gótico del Castillo, RECITIAL LIRICO "Vuelvemelo a decir". AedeaCambra, Marian Torres Soprano, Natalia Bort Piano.Entrada Libre.
Sabado 24 de Septiembre a las 20 hrs. Palacio de Congresos de Peñiscola ORQUESTA SINFONICA DE PEÑISCOLA:(Donativo Escuela de Música 5€Adultos/3€ niños)
Toccata for Matt de Andres, Valero-Castells,Passione Amorosa de Giovanni Bettesini.Sinfonía nº 7 de Lugwig Van Beethoven .Mattew Baker y Gianluca Tavalori, Contrabajo
Director Salvador García Sorli.
This office does not assume responsibility for sudden changes or variations of the events published on this site.