FESTIVIDAD DE SAN ANTONIO
FESTIVIDAD SAN ANTONIO
Pasacalles, Hogueras y Misas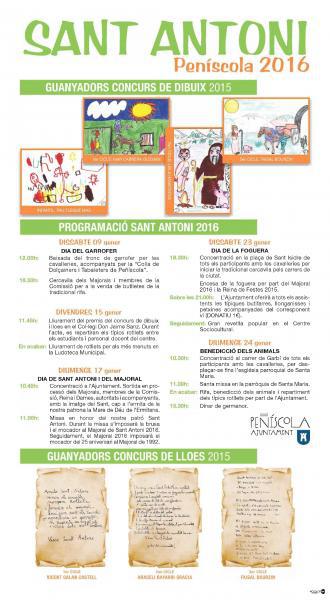 Description:
Programa de fiestas
Dates:

Starts: 09/01/2016
Ends: 24/01/2016
- Sabado 9 a las 12 hrs. Bajada tronco algarrobo por las calles con las caballerias y acompañamiento de dolzainas
- Sabado 9 a las 16:30 hrs. Pasacalles de los Mayorales y miembors de la Comisión para la venta de bolletas de la tradicional rifa, acompañados por la Colla Dolçainers i Tabaleters de Peñiscola
- Domingo 17 a las 10:45 hrs.Salida Procesión hacia la Igesia de la Ermitana, desde el Ayuntamiento
- Sabado 23 a las18:30 hrs. Tradicional Pasacalles de participantes y de caballerias. Concentración en Pl. San Isidro. Seguidamente encendido de la hoguera, a continuación el Ayuntamiento ofrece productos típicos para asar a 1€ Donativo. Frente al Edificio Socio Cultural sito en la calle Mestre Bayarri. seguidamente Verbena Popular
- Domingo 24 a las 10:45 hrs. Pasacalles de caballerías hasta la Iglesia Parroquial Santa Maria, desde la C/Garbí. A las 11:00 hrs. Misa, bendición de animales, rifa y reparto de "rotllets"
This office does not assume responsibility for sudden changes or variations of the events published on this site.