Rice from Pego, a veritable rice bomb…
Publishing date 31/03/2014
Spring has come, and, once again, Pego will host the third Bomba rice gastronomic sessions until April 6. Twelve local restaurants will participate in the activities, providing rice for all tastes, rice that is "the bomb".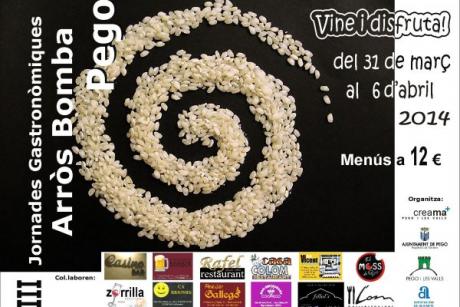 The III Bomba Rice gastronomic sessions in Pego, which will be held from Monday, March 31 onward throughout the whole week and in twelve restaurants in Pego, will offer twelve-euro menus based on Bomba rice. These sessions follow the same philosophy with which they were born three years ago and, following their success, focus on the importance and versatility of Bomba rice from Pego and on the quality of local culture.
Diners can choose between paella with cod and onions, vegetable paella, arroz a banda (rice cooked in fish stock), Arroz Negro (rice with Octopus and Prawns), rice with lobster, soft duck rice, rice with beans and thistles or with beans and cuttlefish, rice with octopus and thistles, octopus chowder, dry cuttlefish rice, rice with beans and peppers or soft seafood rice, among others. Apart from the main course, the menus include entrees, a drink and dessert.
If you like rice, come this week to taste the Bomba rice from Pego, a veritable rice bomb.