Navidad en Oropesa del Mar
Navidad en Oropesa del Mar
Programa actos navideños.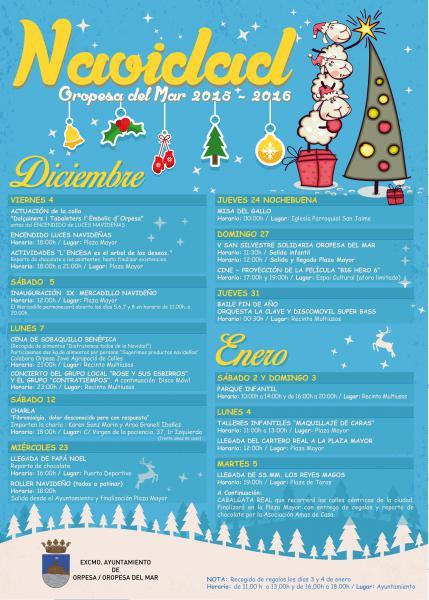 Description:
Actividades de ocio
Type: Navidad
Dates:

Starts: 04/12/2015
Ends: 05/01/2016
DICIEMBRE
VIERNES 4
ACTUACION de la colla "Dolçainers i Tabaleters l`Embolic d´Orpesa" antes del ENCENDIDO de LUCES NAVIDEÑAS
ENCENDIDO LUCES NAVIDEÑAS
Horario: 18 horas
Lugar: Plaza Mayor
Horario: 18,00h. a 21,00h. ACTIVIDADES "L`ENCESA es el arbol de los deseos."
Reparto de chocolate a los asistentes, hasta finalizar existencias.
SABADO 5
INAUGURACION IX MERCADILLO NAVIDEÑO
Horario: 12,00 h.
Lugar: Plaza Mayor
El Mercadillo permanecerá abierto los días 5,6,7 y 8 en horario de 11,00h. a 20,00h.
LUNES 7
CENA DE SOBAQUILLO BENEFICA (Recogida de alimentos "Disfrutemos todos de la Navidad") Participemos dos kg.de alimentos por persona "Sugerimos productos navideños"
Horario: 21,00h.
CONCIERTO DEL GRUPO LOCAL "ROSE Y SUS ESBIRROS" Y EL GRUPO "CONTRATIEMPOS". A continuación Disco Móvil
Horario: 23,00h.
Lugar: Recinto multiusos
SABADO 12
CHARLA sobre Fibromialgia (Dolor desconocido pero con respuesta)
Imparte la charla : Karen Sanz Marin y Aroa Granell Ibañez
Horario: 18,00 h.
Lugar: Local C/Francisco Sevillano, 37-1º-izda.
MIERCOLES 23
LLEGADA DE PAPA NOEL
Reparto de chocolate
Horario: 16,00 h.
Lugar: Puerto Deportivo
ROLLER NAVIDEÑO (todos a patinar)
Horario: 18,00 h
Salida desde el Ayuntamiento y finalización Plaza Mayor
JUEVES 24 NOCHEBUENA
MISA DEL GALLO
Horario: 00,00 h.
Lugar: Iglesia Parroquial San Jaime
DOMINGO 27
V SAN SILVESTRE SOLIDARIA OROPESA DEL MAR
Horario: 11,30 h. Salida infantil
Horario: 12,00 h. Salida y llegada plaza Mayor
CINE
Horario: 17,00 h. Y a las 19,00 h. con la proyección de la película "BIG HERO 6"
Lugar: Espai Cultural (aforo limitado)
JUEVES 31
BAILE FIN DE AÑO
Orquesta LA CLAVE y Discomovil SUPER BASS
Horario: 00,30 h.
Lugar; Recinto multiusos
ENERO
SABADO 2 Y DOMINGO 3
PARQUE INFANTIL
Horario: 10,00 h a 14,00 h. y de 16,00 h. a 20,00 h.
Lugar: Recinto multiusos
LUNES 4
Horario: 11,00h. a 13,00h. Talleres infantiles "Maquillaje de caras"
LLEGADA DEL CARTERO REAL A LA PLAZA MAYOR
Horario: 12,00 h.
Lugar: Plaza Mayor
MARTES 5
LLEGADA DE SS.MM. LOS REYES MAGOS
Horario: 19,00 h.
Lugar: Plaza de Toros
A Continuación
CABALGATA REAL que recorrerá las calles céntricas de la ciudad.
Finalizará en la Plaza Mayor con entrega de regalos y reparto de chocolate por la Asociación Amas de Casa.
NOTA: Recogida de regalos los días 3 y 4 de enero
Horario: de 11,00 h a 13,00h y de 16,00h a 18,00h
Lugar: Ayuntamiento
Information compiled by:
TOURIST INFO OROPESA DEL MAR (eng)
Plaza de París, s/n (Playa de la Concha),
12594 Castellón
Phone: 964312320
Fax: 964312491
This office does not assume responsibility for sudden changes or variations of the events published on this site.