Following the footsteps of Miguel Hernández
Publishing date 13/04/2015
La Senda del Poeta (the Poet Route), a path following in the footsteps of the poet Miguel Hernández through ten towns of Alicante, is held this weekend. Nature, culture and leisure are combined with the life and work of the famous poet from Orihuela.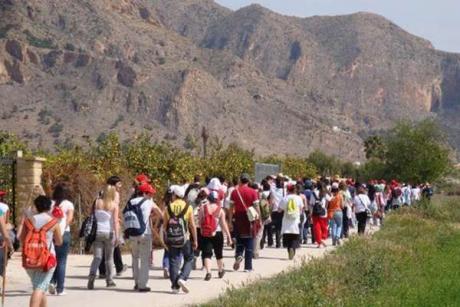 The "Route of the Poet Miguel Hernández 2015" is an initiative of nature, culture, hiking and outdoor activities through the life and work of this author from Alicante. The route, organized by the regional institution IVAJ.GVA JOVE, is held this year on 17, 18 and 19 April. Through this poetic way, the places most associated with the life and works of Miguel Hernandez are walked over. It starts in Orihuela, where the poet was born, goes through Cox, where he lived with his wife, also through Elche where they lived and his widow and son died, and it ends in Alicante, the city where he died on March 28, 1942 and where he was buried.

This cultural youth initiative has the support of the Miguel Hernández University, the Alicante Provincial Council (Diputación Provincial), the Association of Friends of Miguel Hernandez and the Miguel Hernández Cultural Foundation as well as the municipalities visited during the route: Alicante, Elche, Albatera, Granja de Rocamora, San Isidro, Cox, Callosa de Segura, Redován, Orihuela and Crevillente.

For over sixteen years, the IVAJ.GVA JOVE has organized this route in memory of the poet Miguel Hernández, coinciding with the anniversary of the poet's death in 1942.

The route takes place in three stages. The first stage, on April 17, includes the itinerary through Orihuela, Redován, Callosa del Segura, Cox, Granja de Rocamora and Albatera, with a total of 20 kilometers. The second stage, on April 18, runs between the towns of Albatera, San Isidro, Crevillente and Elche, with a total of 28 kilometers. For the third and final stage, on April 19, the route starts from the Miguel Hernández University, stopping at Rebolledo and ending at the cemetery in Alicante, a distance of 22 kilometers.

The tour coincides with the international route GR-125 and participants make stops at every town on the route. Cultural performances of poetry, drama and music represented mainly by young people are planned in the towns through which the path runs.