Explore Orihuela, Albatera and Elche on the Miguel Hernández Poet's Footpath
Publishing date 15/04/2013
The 2013 Senda del Poeta (Poet's Footpath) is a cultural, tourist and environmental walking activity that pays tribute to Miguel Hernández. Walking the Poet's Footpath is much more than just going for a hike, it involves exploring the town where Miguel Hernández was born, plus his life and work.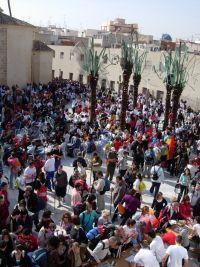 The starting-point for the walk, due to take place on 19, 20 and 21 April, is Orihuela, although in fact, the Miguel Hernández Poet's Footpath route also takes in other towns with tourist and cultural attractions such as Callosa, Albatera, Crevillent and Elche.
The itinerary consists of three stages that run along the international GR-125 footpath, stopping in the towns of Orihuela, Elche and Albatera. Food will be served at the rest stops, plus a range of cultural activities will also be held, including poetry readings, theatre and music performed mainly by young students from towns and villages on the route.
The first itinerary sets off from Orihuela and passes through Redován, Callosa, Cox, Granja de Rocamora and Albatera. Along the way, guides and marshals will be on hand to give people any information they need.
The following day, the itinerary continues from Albatera to San Isidro and Crevillente, arriving in Elche in the afternoon and leaving plenty of time to explore the town's cultural and tourist attractions. The next day, on the final stage of the route, walkers will leave Elche and make their way to Rebolledo and then to Alicante cemetery.

Over the last few years, the Poet's Path walk has attracted record numbers of people and exceeded everyone's expectations, both in terms of popularity and in raising awareness of the life and work of poet Miguel Hernández. The Path has become a hiking event with enormous cultural impact, even at international level.
This three-day hiking trip is free of charge and the organisers provide breakfast on 20 and 21 April, plus a picnic lunch on 21 April and refreshments at the rest stops.
Register and enjoy the Poet's Footpath!
For more information you can e-mail sendadelpoeta_ivaj@gva.es or call 966 478 100.
TOURIST INFO ORIHUELA
Plaza de la Salud, 2
03300 - ORIHUELA 
Tel: 965302747
Fax: 965306294
Email: orihuela@touristinfo.net