Gigantes y cabezudos take to the streets in Ontinyent
Publishing date 20/10/2014
Over 100 gigantes y cabezudos (giants and big-headed characters) from all over Spain will come together this weekend in Ontiyent to take part in a national gathering of nearly 20 different groups. Music, dancing and carnival troupes mean fun is guaranteed on the streets of Ontinyent.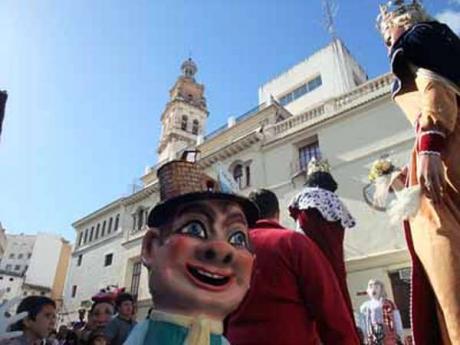 This weekend, Ontinyent will welcome the Aplec de Gegants i Cabets which brings giants and big-headed characters from across the nation together every four years. This annual meeting has been taking place since 1994, and this year will be the sixth edition.
The main events include a parade down Calle mayor and a performance in front of the town hall, filling the streets with music and dancing led by these enormous characters. There will also be other activities on offer, such as exhibitions, plays, correfocs, concerts and workshops.
The giants and big-headeds in Ontinyent, who are often more than 70 years old, are paraded through the streets twice a year to entertain the young and old. They perform dances on Christmas Eve, for procession of the Immaculate Conception and the Feast of Corpus Christi in the month of June. The rest of the year, the historic giants and big-headed figures of Ontinyent are displayed in an exhibition room at the Palacio de la Villa, a historic 13th century building in the centre of town.
Come to Ontinyent and enjoy the original spectacle that is los gigantes y los cabezudos.