Onil holds its annual Moors and Christians festival
Publishing date 29/04/2013
Up to 1 May, streets and squares in Onil provide the setting for the ancient Moors and Christians Festival. The festival has been held here every year since the 17th-18th century and have been passed down enthusiastically from generation to generation.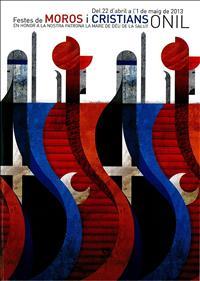 Over several days, a heady mix of colour, gunpowder, music and excitement invades every single nook and cranny of Onil. Year after year, the Moorish army and the Christian troops make their triumphant entrance in the town, dubbed "Villa de las Muñecas" ("land of dolls", so-called because of the local doll factory), keeping the festival tradition alive and thrilling locals and visitors alike with their lively pasodobles and the Christian and Moorish marching bands, all parading together as a symbol of integration and solidarity between nations.
During the Moors and Christians Festival in honour of the Virgen de la Salud, the festival groups endear themselves to residents and visitors alike, taking over the whole of Onil. Visitors are swept along into the extraordinary atmosphere that pervades the entire town while battles between Moors and Christians take place around them.
The last few days in April are when most of the festival events are held, including folk dancing in Plaza Mayor (the main square), the night-time "Retretas", "Nit de l'Olleta", firework displays, all coming together in an explosion of friendship, celebration, fun and entertainment for everyone, whether they are locals or visitors.
On 29 and 30 April and 1 May, the schedule includes wake-up calls, "misa de les filaes" (mass attended by the parade groups), re-enactments of battles with harquebus gunfire, the traditional "Ballá de les Banderes" dance, parades and merriment. Other great events to watch are the EMBASSIES (29 April and 1 May in Plaza Mayor), featuring one of the most ancient spoken texts in the Levante region and re-enacting the parley between the Moorish Ambassador and his Christian counterpart, plus the battles for the Palace fortress and for control of the town of Onil.
Finally, on 1 May, the "Solemne Procesión de Despedida de la Patrona" takes the Virgin back to her chapel after saying her farewells and Onil's Moors and Christians Festival in honour of Nuestra Señora de la Salud draws to a close with a spectacular firework display.
More information:
TOURIST INFO ONIL
Plaza Mayor 1 (Palacio-Fortaleza del Marqués de "Dos Aguas")
03430 - Onil (Alicante) Spain
Tel: +34 965 565 365
E-mail: onil@touristinfo.net