Museo del Aceite de Onil
- Lugar: En la Antigua Almazara de la Villa de Onil, en el edificio de la Cooperativa Agrícola "Virgen de la Salud" (Paseo de la Virgen, 9)
En esta interesante muestra expositiva sobre el "Oli d'Onil" (Aceite de Onil) se exponen una amplia exposición de piezas variadas: herramientas, utensilios, maquinaria, útiles de trabajo, prensas, pesos y medidas, utillaje artesano, etc. y antiguos sistemas de elaboración del aceite de oliva, desde el S. XV (incluso en épocas anteriores) hasta nuestros días. Donde el visitante podrá realizar un recorrido por la historia de la elaboración de nuestro excelente aceite de oliva virgen extra, denominado "Oli d'Onil".
 Cabe destacar, que el aceite de Onil y esta Cooperativa dedicada a su elaboración, obtuvieron el 28 de mayo de 2008, la "Medalla de Plata" del "Consell Valencià de la Cultura", a la tradición artesana y a la calidad de elaboración de este aceite de oliva por sus más de 500 años de historia y tradición en esta Villa.
 - La mayoría de piezas de esta excelente exposición son propiedad de D. César Vidal Cano (coleccionista).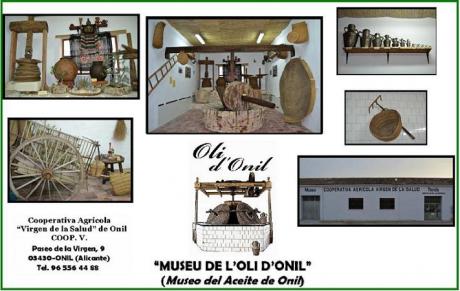 Description:
Dates:

Starts: 02/01/2013
Ends: 31/12/2013
HORARIOS DE VISITA:
* De lunes a viernes:
- Mañanas: de 9:00 a 13:00 h.
- Tardes: de 17:00 a 19:00 h.
* Sábados:
- Mañanas: de 10:00 a 13:00 h.
- Tardes: llamar, para concertar visita, a los teléfonos: 616 71 08 46- 96 556 53 65.
* Domingos:
- Mañanas: llamar, para concertar visita, a los teléfonos: 616 71 08 46- 96 556 53 65.
- PRECIO ENTRADA: 2 €.
- Si lo desea el visitante, a la salida del museo, se ofrece la posibilidad de adquirir este preciado aceite virgen extra de 1ª calidad ("Oli d'Onil"), en la tienda de esta Cooperativa.

¡¡¡Te esperamos... ven a visitarnos!!!
- Organiza: M.I. Ayuntamiento de Onil
- Colabora: Cooperativa Agrícola "Virgen de la Salud"
Paseo de la Virgen, 9
03430 - Onil (Alicante)
Tel.: 96 556 44 88

 
This office does not assume responsibility for sudden changes or variations of the events published on this site.