"Dia de la Volta" en Onil 2013
Sábado, 23 de marzo.
Tradicionalmente a finales del mes de marzo, se celebra en la Villa de Onil, el "DÍA DE LA VOLTA", jornada festera que anuncia que falta prácticamente un mes para las esperadas Fiestas de Moros y Cristianos de Onil (que se celebran del 22 de abril al 1 de mayo), el desfile, la diversión, el colorido, el buen ambiente festero se funden con los pasodobles, las marchas cristianas y moras que embriagan de nuevo las calles de este municipio de interior de la Provincia de Alicante.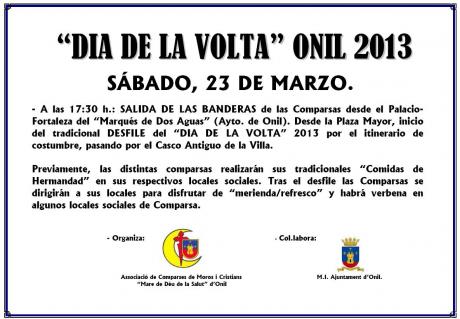 Description:
Programa de fiestas
Dates:

Starts: 23/03/2013
Ends: 23/03/2013
"Dia de la Volta" en Onil
Sábado 23 de marzo de 2013:
- A las 17:30 h.: Salida de Banderas de las Comparsas desde el Palacio-Fortaleza del Marqués de Dos Aguas (Ayto.)-Plaza Mayor para iniciar el Desfile del "Dia de la Volta" 2013 por el itinerario de costumbre, pasando por el Casco Antiguo de la Villa.
Previamente, las distintas Comparsas del Bando Cristiano (Cristianos, Vizcaínos y Estudiantes) y del Bando Moro (Moros, Marruecos y Moros Artistas) realizarán sus "Comidas de Hermandad" en sus respectivos locales sociales. Tras el desfile las Comparsas se dirigirán a sus locales para disfrutar de la merienda/refresco y habrá verbena en algunos locales sociales de Comparsa.
Si quieres conocer la fiesta y disfrutar del buen ambiente festero de las Fiestas de Moros y Cristianos, ven a conocer este divertido "Día de la Volta" en Onil.
This office does not assume responsibility for sudden changes or variations of the events published on this site.