IV Marcha Caminando por Onda
Vuelve la Marcha Caminando Por Onda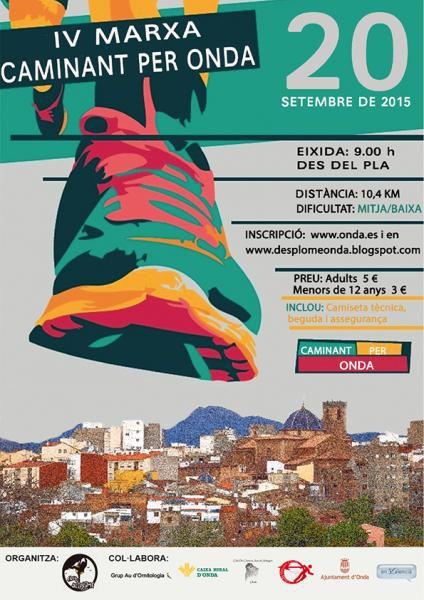 Description:
Actividades de ocio
Type: Rutas y excursiones
Dates:

Starts: 20/09/2015
Ends: 20/09/2015
Pre-inscripción
Primero, hace falta rellenar el formulario que podéis recoger en:
Concepto: Senderismo, Nombre y apellidos
En la inscripción ha de aparecer:
Nombre y apellidos
Telefono o email de contacto
Localidad
Talla de Camiseta
Inscripción
Para confirmar la inscripción, deberán de dejar el justificante de pago en el departamento de deportes del ayuntamiento de Onda, antes del día 17 de septiembre a las 14:00. El día de la marcha no se aceptará inscripciones.
Precio: 5€ (Adultos), 3 € (Menores de 12 años)
Incluye: Camiseta, seguro, inflables, rocódromo y bebida.
Número de Cuenta: Caja Rural IBAN: ES12 3134-3405-59-2068773015
Con el recibo del pago y el DNI, se recogerá la acreditación, el sábado 19, al pabellón municipal. De 17:00 a 22:00 h; o también, en el Pla de 08.00 a 08.45 h. del mismo día que la marcha.
Consejos:
Llevar agua, gorra, calzado y ropa adecuada
Durante el recorrido habrán dos puntos de abastecimiento
Respecto al medio ambiente No lanzar ningún tipo de residuos por el camino, por eso, habrán lugares habilitados
Recordad coger la camiseta en la hora y el lugar adecuado, para evitar retrasos en la salida
Normativa
La IV Marcha senderista Caminando por Onda, es una marcha popular y familiar. No competitiva
La organización de la marcha puede modificar el horario, la ruta o las características de fuerza mayor. Si la marcha se suspendiese se pondría la fecha para realizarla. En ningún caso se devolverá la cuota de inscripción
Las personas participantes realizaran una única ruta de 10,4 km de dificultad media baja
El recorrido empezara en el Pla i concluirá en la zona deportiva (recinto multiusos). Los participantes deberán acreditarse obligatoriamente. Lo pueden hacer el mismo día antes de la marcha, a partir de las 08:00, o también el sábado día 19 en el Pabellón municipal de Onda de las 17:00 a las 20:00 h.
El almuerzo, la organización proporcionará bebida a los participantes. Durante el recorrido habrán dos puntos de abastecimiento.
La organización tiene contratado un seguro
Las personas menores de edad, habrán de ir acompañadas de al menos de una persona adulta
TODA PERSONA PARTICIPANTE, POR EL HECHO DE INSCRIBIRSE ACEPTA ESTA NORMATIVA
This office does not assume responsibility for sudden changes or variations of the events published on this site.