In Novelda, following in the footsteps of Jorge Juan
Publishing date 14/10/2013
Jorge Juan (Novelda, 1713) was a key figure during the reigns of the first Bourbon monarchs. On the three hundredth anniversary of his birth, a guided and dramatized tour illustrates the greatness of someone who was ahead of his time. On Saturday 19 October you have the chance to find out more about the life of this great man who was an outstanding seafarer, spy, mathematician and scientist.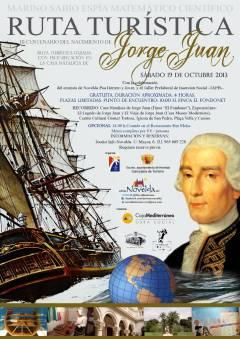 Jorge Juan y Santacilia was equally respected and admired for being a wise Spaniard, as he was known in Europe; a daring soldier who travelled all over the world, or a noble Knight of the Order of Malta. He was a man with the ability to uncover enemy secrets and also a gentleman who knew how to honour his king's weapons and words. On 19 October you can follow in his footsteps around Novelda, his birthplace, on a guided tour lasting four hours that starts at the house on the estate known as El Fondonet where he was born on 5 January 1713.
The route also includes two exhibitions, El legado de Jorge Juan (Jorge Juan's legacy) and El viaje de Jorge Juan (Jorge Juan's journey) in Casa Museo Modernista, plus the church of San Pedro, the square of Plaça Vella and the Casino.