Venta del moro, enjoy an adventurous weekend in Hoces del Cabriel
Publishing date 25/02/2013
Do you like having adventures in the countryside? Are you daring enough to try your hand at rafting or canoeing? Don't think twice, this weekend holds a challenge for you in Hoces del Cabriel. Come and have fun at Cabrielfest, in Venta del Moro, a beautiful spot only one hour away from Valencia. Packages including activity, accommodation, dinner and party plus dancing are available from only 37 euros. Adventure and fun are assured. Are you going to miss out?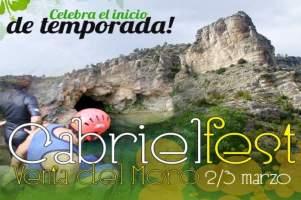 This weekend, 2 and 3 March, we invite you to immerse yourself in adventure, have fun with your family or your group of friends, savour the local sausages and discover the unique landscape of Hoces del Cabriel (Venta del Moro - Valencia).
Overcome the might of the rushing river with no previous experience, take part in discussions and talks at the nature reserve headquarters, taste the town's traditional products and dance Saturday night away at the open-air party in the town square.
A fantastic, fun experience giving you the chance not only to test your bravery against the challenges nature throws at you, but also to go hiking through the Cabriel countryside or visit one of Spain's most important palaeontology sites
Decide which activities you'd like to do and sign up for Cabrielfest with any one of these three adventure tourism companies. Don't let this opportunity pass you by, live the adventure!