Valencia holds its first major Fallas ceremony: "La Crida"
Publishing date 24/02/2016
In Valencia, final preparations are underway for Fallas, the city's Festival of Interest for International Tourism, due to take place from 15 to 19 March. The first festival ceremony is scheduled for Sunday 28 February at 8pm, when "Falleros" and visitors alike throng the area in front of the Torres de Serranos to celebrate the official start of events leading up to the Fallas festival. If you're in Valencia, you can be part of pre-Fallas events by going to watch La Crida, as well as visiting the city's many attractions. You'll be spellbound!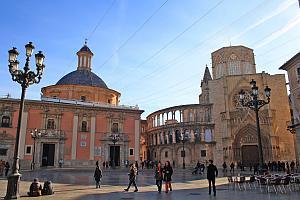 The official events for Fallas 2016 will be starting bright and early on Sunday. The classic "Despertà", or wake-up call, sets out from Calle La Paz in the city centre at 7.30am. From here, the Falleros make their way through the city streets to Plaza del Ayuntamiento, letting everyone know that the festivities have begun.
Then, at 12.30pm, local bands will be playing to entertain everyone and encourage all Valencia residents to come out and enjoy the party as they parade round the historic city centre, starting in Plaza de la Virgen and ending in Plaza del Ayuntamiento. At 2pm, thunderous explosions and the smell of gunpowder herald this year's first "mascletà" firework display, announcing that Fallas 2016 is well and truly underway.
That night at 8pm, is when the emblematic opening ceremony for Fallas takes place. La Crida is the moment when the Mayor of Valencia hands over the keys of the city to Valencia's Chief Fallera, who then calls upon all the Falleros to begin the festivities. This event always attracts huge crowds of people, as it is one of the most eagerly awaited moments of the year.
More information: http://www.fallas.com/