The Traditional and Quality Sausage Fair gets underway in Requena
Publishing date 4/02/2013
This year's Traditional and Quality Sausage Fair is due to get underway in Requena, with lots of delicious things on offer. This year the Fair is celebrating its 20th anniversary by holding a Bullfighting Festival in the town featuring leading figures from the bullfighting world.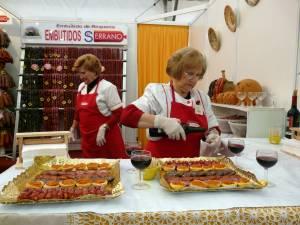 Every February, Requena gets ready to party as it pays tribute to its most famous food product, sausages. Year after year, the Traditional and Quality Sausage Fair attracts thousands of visitors who flock to the town to try its tasty sausages.
By purchasing a single ticket, visitors can treat their taste buds to all kinds of mouth-watering sausages. Longaniza (pork sausages), salchichón (cured pork sausage), chorizo (pork sausage with Spanish ground red pepper), Sobrasada (cured sausages with Spanish ground red pepper and oil), morcilla de cebolla (black sausage with onions), perros (hot dogs), güenas (pork sausages seasoned with garlic, cloves, pepper and Spanish ground red pepper) and embutido de la orza (sausages preserved in oil inside a glazed earthenware jar) are all quality guaranteed by the Regulatory Council of the Embutido de Requena Protected Geographical Indication (PGI).
As well as sausages, you can also enjoy other traditional products from Requena, such as cakes and pastries, plus wines from the various wineries that open their doors to the public while the Fair is on.
This year, to mark the Fair's 20th anniversary, a Bullfighting Festival is planned, featuring famous bullfighters and raising funds for the Neuroregeneration Research Foundation (IRSN).
If you go to the Fair, you'll not only be able to try the very best sausages, but you'll also have the chance to explore Requena's incomparable cultural, natural and heritage attractions.  A tour of the Barrio de la Vila, the town's medieval quarter, to see its caves and Moorish-style buildings is an ideal way to round off your day in Requena after taking part in the 20th Traditional and Quality Sausage Fair.
This is a great opportunity for trying Requena's excellent sausages. Why not take a weekend break in the town and spend some quality time in the open air with family and friends.
More information: http://www.embutidoderequena.es/