Start experiencing the Fallas Festival in Valencia!
Publishing date 25/02/2013
This week is the beginning of a brand new month, March, when Valencia gets ready to live and breathe its most international of festivals: Las Fallas. So, we invite you to come and start enjoying a festival full of colour, fire and fun. From the first Mascletà firework display that rocks the city on Friday 1 March, to the cavalcade of Ninots inundating Valencia with colour and satire on Sunday. Don't miss it, the smell of gunpowder is already in the air here in Valencia!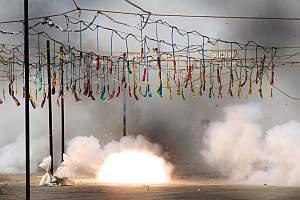 This week sees the start of March, Fallas month and the most eagerly-awaited time of year in Valencia by local residents and by the millions of visitors who flock to the city every year to see the festival for themselves. If you're one of them, we invite you to be part of the celebrations from this very week.
The Fallas fuse has already been lit. On Friday 1 March, the whole city vibrates with the first Mascletà, a unique and thunderous display of fireworks and firecrackers that takes place every day at 2 pm in Plaza del Ayuntamiento (in front of the City Council building) through to 19 March.
We also suggest you go along to the Ninots exhibition at Nuevo Centro shopping centre, which stays open until 14 March and where you can take a closer look at a selection of the figures that make up the scenes on the Fallas monuments. These Ninots have been given the chance to escape the flames on the day of the Cremà, when all the monuments are burned, and you can help choose the lucky one. If you visit the exhibition, you can vote for your favourite Ninot.
Another event to catch in the Fallas Festival is the famous Ninot cavalcade, a parade set to fill Valencia with colour and satire on Sunday 3 March. The cavalcade, in which participants travel round the city's most emblematic streets in fancy dress costumes, sets out at 5 pm and finishes with a colourful Mascletà firework display by pyrotechnics company Gori in Plaza del Ayuntamiento, the square in front of the City Council building.
The Ninot exhibition
Opening times
Open all day, from 10 am to 8.30 pm, Monday to Sunday.
Ticket prices
Normal tickets, €2
Groups of over 15, senior citizens (over 65), children under 12 and disabled, €1
Information hotline
963 521 730
More information: http://www.fallas.com/