The Magi return to Alcoy
Publishing date 6/01/2013
Declared of National Tourist Interest, the oldest Epiphany Parade in Spain scours the streets of Alcoy once again. On 5th January, Melchior, Gaspar and Balthasar will visit this spectacular city of Alicante accompanied by pages, dancers, men with torches, musicians and shepherds.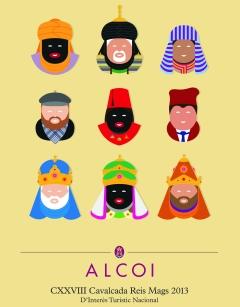 About 6:00 pm on 5th January, the Epiphany Parade starts in Alcoy, a spectacular parade that has among its characters, pages, dancers, men with torches, musicians, shepherds and of course their majesties Melchior, Gasper and Balthasar. It starts in the upper area of ​​the city and through the streets of El Camí, Sant Nicolau and Plaça d'Espanya, the point where the Adoration is traditionally performed.
Then, about 8:00 pm, and after the fireworks, the royal party will continue its journey through Sant Llorenç, Pais Valencia, María Cristina Bridge, the Paseo de Cervantes, Alçamora and Sant Roc Bridge where acts will end at 10:00 pm. Declared of National Tourist Interest, the newspaper El Heraldo de Alcoy narrated the celebration for the first time in 1866, although it was not until 1885 when the act took on the characteristics that define it today.
The Magi will also make an appearance in other towns and cities of Valencia. From Castellón to Alicante the royal party will carry out many stops. Among them, Benissa, Castellón de la Plana, Riba-Roja del Turia, Pego or Pinós. Furthermore, in Tibi will start the celebration of the Dance of the Kings with a full program of events that begins on 6th January.
Take a look to the schedule and route of the royal party!