It's Fallas! Experience gunpowder, colour and music across the Region
Publishing date 11/03/2013
15 March is the day when Valencia's biggest festival, Las Fallas, gets underway. Mascletàs (thunderous daytime firework displays), ninots (figures on the Falla monuments), parades, music, concerts, firework shows and displays. Over five days, the smell of gunpowder intermingles with the most delicate flower fragrances and band music can be heard through the sound of masclets (the loudest bangers). With more than 400 streets closed to traffic, the city of Valencia is taken over by Falla monuments, falleros and falleras dressed in their traditional costumes, buñuelos (deep fried dough balls) with hot chocolate, plus a riot of music and colour. A city that stays open 24 hours a day - you won't want to miss this!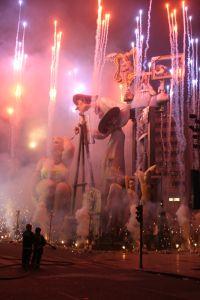 It's festival time in the Region of Valencia, when light, colour and fire will be flooding into the streets and squares of our towns and villages from 15 to 19 March. Here in this friendly land, we invite you to come and see the Valencia Fallas Festival for yourself and experience the most famous international festival of them all. We invite you to come here for these five days and get a first-hand view of each and every distinctive feature of the festival that is so eagerly awaited by Valencians all through the year.
Friday 15 March is the traditional Plantà, when more than 700 monuments are set up in streets all across the city; it's also the date on which the nightly firework displays start next to the old Turia riverbed (now a park).
The most popular festival days by far are 17 and 18 March, on which thousands of Valencians dress up in their beautiful natural silk regional costumes to leave bouquets for the Virgen de los Desamparados (Our Lady of the Forsaken) in the mass flower offering, the Ofrenda. The festivities come to an end at midnight on 19 March with the Cremá, when all the monuments are engulfed by flames.
But the most impressive and thrilling event of all is surely the famous Mascletá, a sensational display of pyrotechnical skill that takes place every day at 2pm in Plaza del Ayuntamiento, in front of the city council building.
And Valencia is not the only place where this festival is held. The streets of destinations such as Alzira, Burriana and Denia are also packed with monuments, festivities, music and colour. Come and discover the Fallas festival at any one of our destinations. Are you going to miss out?
Finding your way around
More information:
Programa Fallas 2013 (Spanish)
Fallas 2013 Programme (English)