Experience springtime on the Castellón coast
Publishing date 20/03/2013
This week we invite you to Plana Alta, a region in the north of Castellón where you can enjoy the warm spring weather on the beaches at Benicàssim, Oropesa and Torreblanca; savour excellent wines at the 'Muestra de Vinos y Productos de la Tierra' in Benlloch, and enjoy a day trip with family or friends to 'Parque Natural Prat de Cabanes-Torreblanca'. Don't be the last to find out! Come to Castellón, you'll be amazed!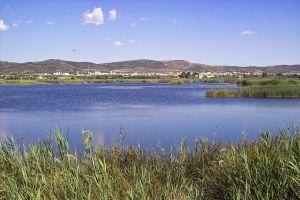 This week heralds a new season, springtime, bringing the perfect weather for enjoying a day out in the open air and making the most of every ray of sunshine to visit stunningly beautiful places ideal for adventure and hiking, like Parque Natural de Cabanes-Torreblanca, or for rest and relaxation, like the huge sandy beaches and transparent seas at Benicàssim, Oropesa and Torreblanca.
The footpaths through the countryside at Cabanes reward walkers with wonderful views, and on a clear day you can see all the way to the Columbretes, a set of volcanic islands protected for their incalculable ecological value. Hiking in the Cabanes-Torreblanca Nature Park allows you to enjoy the beautiful landscape as you exercise your body and relax your mind.
Moving inland from the coast, only 15 minutes from Torreblanca, is the town of Benlloch, where this weekend they'll be holding the Muestra de Vinos y Productos de la Tierra.. Tastings, concerts, exhibitions, presentations and many other activities and events will be showcasing the region's wines and vineyards.
As you can see, the coast of Castellón has lots to offer this spring, are you going to miss out?
More information:
http://www.turismodecastellon.com/
Parque Natural de Cabanes-Torreblanca Visitors' Centre
Ribera de Cabanes
Tel: 964 319 777
Fax: 964 319 691
E-mail: parque_cabanes@gva.es