Discover La Tinença de Benifassà
Publishing date 11/03/2013
Do you know any of the seven little villages that make up La Tinença de Benifassà? If you like rural tourism and you're a fan of nature, adventure or gastronomy, if you're passionate about horse-riding, if you'd love to do a 4x4 photography safari or demonstrate your archery skills, La Tinença is the destination for you. Venture into the inland areas of the province of Castellón and discover the unspoilt havens of La Tinença de Benifassà!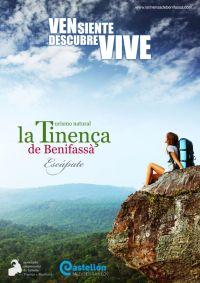 La Tinença de Benifassà is ideal for nature tourism, rural tourism and active tourism enthusiasts. The area has a unique range of small hotels, rural houses, campsites, exquisite restaurants serving local dishes and adventure activities, all combining to make a perfect tourism destination for enjoying nature and the countryside to the full.
La Tinença offers a wide variety of tourism attractions alongside natural resources, traditions, gastronomy, culture, heritage and landscapes. All this, plus a peaceful, quiet atmosphere and friendly local communities make this an ideal destination for spending a few days alone, as a couple, as part of a group or as a family, with the certainty of being able to explore a unique part of the region with its own special character. A holiday here is an enjoyable experience in complete harmony with nature, where you can make the most of everything that the countryside and the famous local gastronomy have to offer.
There are many reasons for coming to La Tinença, a distinctive and extraordinary landscape that deserves to be visited, enjoyed and appreciated with all five senses.  Come and discover La Tinença!
More information:
La Tinença de Benifassà
www.latinensadebenifassa.es
Tel: 977 729 051
E-mail: info@latinensadebenifassa.es