Come to FITUR and get your best ever package at the best price for enjoying the Comunitat Valenciana in 2013!
Publishing date 28/01/2013
Get ready to have a real adventure and let yourself be carried away by the myriad of experiences getting you up close and personal with nature, the sea and the outdoors, now available from the five Comunitat Valenciana brands, Valencia Terra i Mar; Castellón Mediterráneo; Costa Blanca, Benidorm and Turismo Valencia at the upcoming FITUR 2013.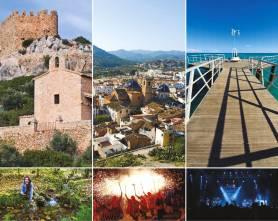 This week, the Comunitat Valenciana will be keeping a longstanding appointment at FITUR,  the Madrid International Tourism Fair. An event where you can find the region's leading tourist provision and attractions, from beaches and yachting marinas to one of Europe's biggest range of hotels, 22 nature parks and reserves, plus a network of MTB centres for biking tours, some 1,585 Assets of Cultural Interest, 116 museums, 99 museum collections, restaurants with a total of 10 Michelin stars between them and lots more besides.
A diverse series of attractions will be on show in pavilion 7 at the IFEMA trade fair complex and, for the very first time, everyone who visits the Comunitat Valenciana stand on 2 and 3 February will be eligible for discounts and special offers when they buy active tourism packages and marine experiences.
Come and see us on the Comunitat Valenciana stand at FITUR this weekend and book the package that best suits your needs out of the 250 tourism experiences on offer for you to enjoy at any location in our destination area.
From tourism packages in hotels, rural houses, campsites, apartments, spa resorts and with active tourism companies in all three provinces, through to tourism experiences based on gastronomy, wine tourism, adventure or chilling out.  Packages for enjoying with friends, with your partner or with the family, attractive offers you can't afford to ignore and everything at exclusive and extremely attractive prices.
There are thousands of places in the Comunitat Valenciana just waiting to give you an authentic visitor experience. Come to the Comunitat Valenciana stand at FITUR and discover them!
Pabellón 7, Stand 7A02-04-06