Mutxatapa 2015
5th to 21th of june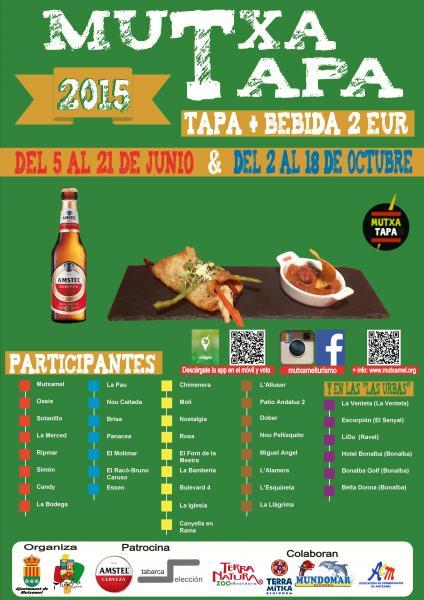 Description:
Actividades de ocio
Type: Gastronomía
Dates:

Starts: 05/06/2015
Ends: 21/06/2015
Come back MUTXATAPA 2015, an initiative for residents and visitors can taste the typical
" tapas" . There are many restaurants, bars and pubs.
Come and meet Mutxamel, enjoy the typical food.

Mutxatapa Tapas Route 2015,have two editions:
- The first will be from 5th to 21nd of June
- And the second from 2nd to 18th of October.

during this period restaurants will offer
drink + "tapa" for 2 €
For more information, contact to the Tourist Info: 965956441
mutxamel@touristinfo.net


Download RUTAPPA Mobile APP, is an app that supports the organization of gastronomic events.

Rutappa provides a digital map and GPS geolocation by incorporating full information of each establishment and lids. It features a voting system via mobile that records each voting terminal cover with high transparency, safety and reliability and allows only one vote per mobile phone.


So in this edition VOTE system will be performed in two ways:

- Through the mobile app: APP RUTAPPA.
- Through sealing primer

Donwload RUTAPPA at App Store, Google Play, Play Store



MANY PRIZES! DO YOU WANT TO WIN ONE?
To enter the draw the participant may do so in two ways:
1 Fill the Mutxatapa with members of the various establishments (12 boxes) . They must vote the best cover indicating the establishment number . The Mutxatapa may be filled from both the June Since October . Be allowed not to repeat the stamp of any establishment.
2.- Vote on a Through the Mobile Application : APP RUTAPPA 12 participants other establishments Voting Using code that each establishment has been assigned . RUTAPPA APP is available in App Store or Google Play Store.
Voting in this mode should be made independently Each paragraph edition
You must deliver the stamped leaflet at Tourist Info, located in (Avenida Carlos Soler, 64) until 26th of October de 2015.


HOW TO FILLING MUTXATAPA LEAFLET
www.mutxamel.org / turisme.
Participants must refill MUTXATAPA with 12 different stamps of enterprises participants on the promotion. Do not repeat the stamp of the establishment in another box.
The deadline for submission of stamped MUTXATAPA leaflet will be from 6th of June to 27th of October.
Leaflet will be deposited at Tourist Info Mutxamel, Avda Carlos Soler, 64 from 9.00 to 22.00, which is inserted into a sealed box for the public lottery.


RAFFLE OF MUTXATAPA
Raffle will take place on October 27th, 2015 at the City hall at 10:30 h. Results will be displayed on
www.mutxamel.org
and on the board of the Tourism Office.
This office does not assume responsibility for sudden changes or variations of the events published on this site.