IV Vuelta En Bici por la energia sostenible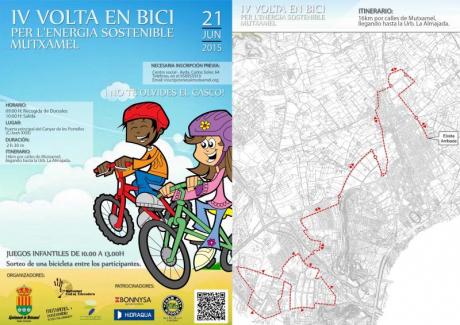 Description:
Actividades de ocio
Type: Deportes
Dates:

Starts: 21/06/2015
Ends: 21/06/2015
IV VUELTA EN BICI POR LA ENERGÍA SOSTENIBLE

Para celebrar la Semana Europea de la Energía Sostenible (15-19 de junio) y siendo uno de los compromisos adquiridos al firmar el Pacto de Alcaldes, el próximo domingo 21 de juniose celebrará la IV edición de la Vuelta en bici.
Como en ediciones anteriores, la vuelta sale del casco urbano y recorre una de las urbanizaciones del municipio. En esta ocasión, nos acercaremos a La Almajada. Nuestro objetivo es fomentar la bici como medio de transporte idóneo entre las urbanizaciones y el núcleo urbano, además de concienciar sobre el ahorro energético y la disminución de emisiones de CO2.

El programa será el siguiente:

21 de junio de 2015

Parque el Canyar de les Portelles (C/Joan XXIII)

9.00: recogida de dorsales
10.00: salida
12.30:llegada

El recorrido tiene 16 km aproximadamente, con un punto de avituallamiento intermedio y durará aproximadamente 2.30 horas.

Es imprescindible el uso del casco y los más pequeños han de ir acompañados por un adulto.

Mientras se está efectuando la vuelta, en el lugar de salida/llegada habrá juegos con bicipara los niños que no participen en la vuelta.

A la llegada de los participantes se ofrecerá un almuerzo y entre todos ellos se sorteará una bicicleta para niño, cortesía de TJ Bikes.

Las inscripciones se pueden realizar en:
Centro Social, Avda. Carlos Soler 64,
Teléfono 956955910
This office does not assume responsibility for sudden changes or variations of the events published on this site.