I Semana de la Reposteria
Acércate, concursa, compra con descuento y saborea la Tonya, Torta de almendra y Mantegadetes en los hornos tradicionales.
La primera Semana de la Repostería tradicional de Mutxamel queremos poner en valor la repostería tradicional elaborada en los hornos locales y que los ciudadanos, conozcan y valoren los atributos gastronómicos, patrimoniales o culturales con los que cuenta Mutxamel.
Mutxamel se convertirá en la capital del dulce de la Comarca de L´Alacantí, con una jornada de repostería tradicional que servirá como preludio de las fiestas de Semana Santa.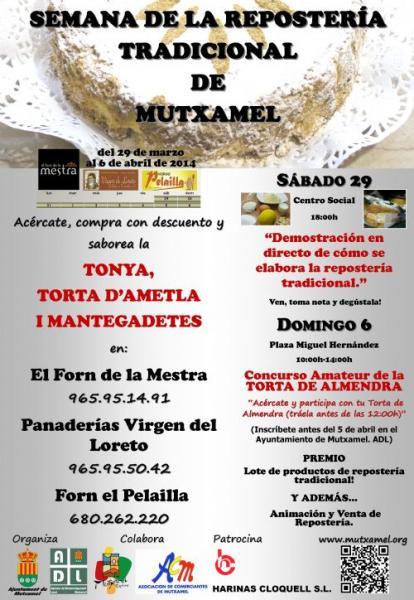 Description:
Actividades de ocio
Type: Gastronomía
Dates:

Starts: 29/03/2014
Ends: 06/04/2014
DESDE EL SÁBADO 29 DE MARZO AL DOMINGO 6 DE ABRIL.
Puedes comprar en los despachos de los hornos participantes la repostería tradicional a promocionar durante la semana, a unos precios fantásticos:
Torta de almendra: 2 €/ porción de ¼.
Tonya: 1,5 €/ Tonya
Mantegadetes: 1,5 € el ¼ kg

SÁBADO 29 DE MARZO:DEMOSTRACIÓN EN DIRECTO DE ELABORACIÓN ARTESANAL DE REPOSTERÍA TRADICIONAL DE MUTXAMEL.
Realizada por elForn de la Mestra, en representación de los reposteros locales. Al finalizar, los asistentes podrán degustar productos elaborados por los hornos participantes.
No te lo puedes perder!... Asiste a este intercambio de conocimiento y experiencias en el hacer artesanal de la buena repostería de Mutxamel.
A las 18:00h en el Auditorio del Centro Social.

DOMINGO 6 DE ABRIL: CONCURSO DE TORTA DE ALMENDRA Y VENTA DE REPOSTERIA
En la Plaza Miguel Hernández, en horario de 10 a 14:00h, encontrarás:
- Punto de venta de repostería tradicional al mismo precio ofrecido durante la semana, y
- Concurso Amateur de repostería tradicional de Mutxamel: Torta de Almendra.
Inscripciones en el Ayuntamiento de Mutxamel –ADL antes del 5 de abril. La Torta de Almendra se depositará antes de las 12:00h en el stand de la Plaza Miguel Hernández.
Premio:un lote de productos de repostería ofrecido por los hornos tradicionales participantes en la Semana de la repostería tradicional
La mañana estará amenizada con actividades y zona infantil en el parque. La Asociaciónde Mujeres Mutxamelerasofrecerá a los visitantes degustaciones de vino dulce!
Empresas Participantes:
El Forn de la Mestra.
Forn Pelailla.
Forn de Pa Virgen del Loreto
This office does not assume responsibility for sudden changes or variations of the events published on this site.