Cuenta cuentos infantiles
Campaña de animación a la lectura que organiza la Biblioteca Infantil de Mutxamel durante todo el año.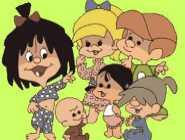 Description:
Actividades culturales
Dates:

Starts: 22/03/2013
Ends: 13/12/2013
22 de marzo a las 18:00h: CUENTOS DEL MUNDO
Con vestuario y puesta en escena hindú. Historias de tradición oral de otros países.
26 de abril a las 18:00h: LA CASA DE LOS CUENTOS
Celebraremos asi el día del libro. Los cuentos tienen magia. Los libros que los contienen más. Y el lugar mas mágico que existe, es el casa de los libros, la biblioteca...En ella habita las palabras, los colores, la imaginación, las historias...
31 de mayo a las 18:00h: LLUVIA DE CUENTOS
Me gusta que la lluvia me moje, pero aun me gusta más empaparme con la lluvia de cuentos, escuchar como caen las palabras una detrás de otra, hilando historias, mientras nuestras orejas, a cubierto, escuchan atentas.
12 de julio a las 12:00h: BICHOS Y BICHILLOS
Recopilación de cuentos infantiles cuyos protagonistas son animales: tortugas, moscas, cabras, orugas, mariquitas...
27 de septiembre a les 18:00h: PRINCESAS REYES Y PRINCIPES
Cuentos de princesas, de reyes y de príncipes un tanto extraños. Actualmente preparo una sesión formada sólo por cuentos de princesas, de reyes y de príncipes que no son como los de los antiguos cuentos.
25 de octubre a las 18:00h: CUENTOS CON LOBOS O LOBOS CON MUCHO CUENTO
Sesión de cuentos de tradición oral y de autor en los que el protagonista es el lobo. El libro estrella de esta sesión es el álbum ilustrado por Roger Olmos y escrito por Roberto Aliaga "Un cuento de lobos"
29 de noviembre a las 18:00h: PIRATAS
Sesión de animación a la lectura en la que contamos y jugamos con dos libros: Nico el pirata y el Capitán Calabrote.
13 de diciembre a las 18:00h: UNA NAVIDAD DE CUENTO
Acercar a la tradición oral...algunos cuentos son llamados "cuentos de navidad" por su temática, otros..son historias tradicionales o de autor.
This office does not assume responsibility for sudden changes or variations of the events published on this site.