Opening The Gardens Of Peñacerrada and Dramatised Visits
Every Sunday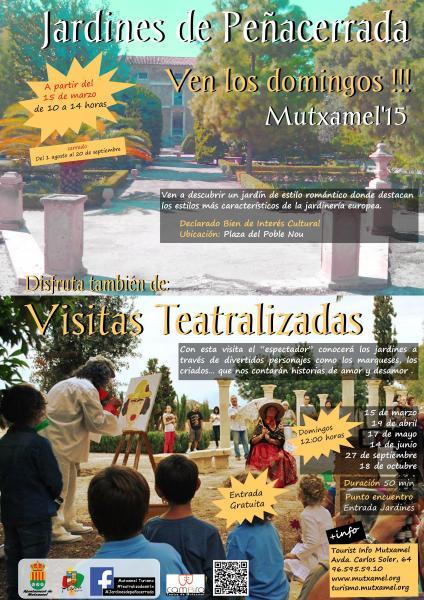 Description:
Actividades de ocio
Type: Rutas y excursiones
Dates:

Starts: 15/03/2015
Ends: 31/12/2015
OPEN ON SUNDAYS
(Open from March 15 every Sunday from 10:00 to 14:00)
(CLOSED from August 1 to September 20)
We invite you to know and delve into Peñacerrada Gardens, a botanical oasis that will transport the Marquis of Peñacerrada nineteenth century.
And you can enjoy DRAMATISED VISITS
The following Sunday at 12:00h
March 15
April 19
May 17
June 14
September 27
Oct. 18
Visit Duration: 50 minutes.
Meeting point: Entrance Gardens Peñacerrada
With this visit the "spectator" know the gardens through fun characters like the marquis, marquise, the servants, the French painter ... who will tell us their stories of love and hate making an unforgettable morning.
The Palace and Gardens of Peñacerrada are located in the Plaza del Poble Nou.
Peñacerrada Gardens are one of the most representative historic areas of residential architecture of the Huerta de L'Alacantí in the province of Alicante.
The gardens cover an area of approximately 2 acres, with 10,000 meters of garden and orchard 17,250 meters. European styles that prevail are French, English and Italian.
In the French garden highlights the low and symmetrically trimmed parterres delimited myrtle. In front of the palace façade can observe a pyramid of that species and cypresses cut arched.
The English garden, romantic style, is composed of a pine grove, two artificial mountains connected by a bridge and covered by opuntias (drainers), a turret, a grotto and the Casa de la Vieja.
In the Italian garden, you can see a set of eight stone columns and a small pool. Faced with all this, a maze of cypress, recently restored is located.
A fourth style is dominant throughout the garden. This is the Spanish-Mohammedan, whose main feature is a traditional system of canals that watered the whole garden from a larger pool located in the highest part of the area of the garden. This pool, surrounded by cypress trees and benches, had three functions: water, supply the palace and as a recreational area.
In addition, the garden features a Children's House, a hotbed and other areas of interest.
Other plant species can be found in the garden:
-Carob tree.
-Nettle tree.
-Mulberry,white mulberry .
-Canary island date palm.
-Pomegranate.
-Aleppo pine, Jerusalem pine.
-Arar, sictus tree.
-Canary island pine.
-Opuntia.
-Field elm.
This office does not assume responsibility for sudden changes or variations of the events published on this site.