A time-lapse to travel to Morella's amazing past
Publishing date 3/08/2016
The camera passes over the walls that have been there forever and shows the vast and beautiful landscape of the region of Els Ports.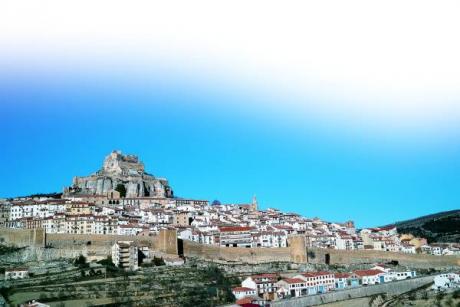 The silhouette of Morella Castle is drawn in the first image of a time-lapse which shows how time has passed through one of the most beautiful towns in Spain. The place where the castle stands has been inhabited since immemorial times evidenced by the Neolithic remains of the Bronze and Iron Age. The Iberians, Romans, Visigoths, Muslims and finally Christians have also found shelter in this rocks. This place and the casttle, they change with the light, with clouds moving at full speed, as if history had turned a recording fast motion to show the grandeur of the work in a few minutes.
Then the camera turns to the perched houses on the rock, towards the narrow streets and steep passes like a caress on the walls that seem to have been there forever, a glance tothe vast and beautiful landscape of the region of Els Ports. Forests, rocks and gorges entwine with medieval chapels, carved in stone streets, palaces and churches. Intangible and magical spaces,tough and strong landscapes,the same as its people and its history.
The geographical enclave of Morella has been key in the course of centuries, that is whythe camerais showingall possible points and framings. Sometimes it seems that is not possible topenetrate beyond the walls, emphasizing the character of impregnable military fortress, with a lookout tower always aware of all the cardinal points.
City,which is aHistorical Site, is truthfully like this; their traditions, customs and festivals, gastronomy and its people are a true reflection of the past, this privileged position, which also feels the visitor when wandering the streets, seeing the horizon or touch its stone walls. Like a spring, unexpectedly, any of these gestures take the visitor back in time.