The Morella Fair
Publishing date 2/09/2013
In the heart of the Maestrazgo and at an altitude of more than 1,000 metres, stands the town of Morella in the province of Castellón. The town is worth visiting not only for the castle that overlooks the municipal area, surrounded by mountains and spectacular views, but also for the fairs, which make it a marvellous destination for the whole family.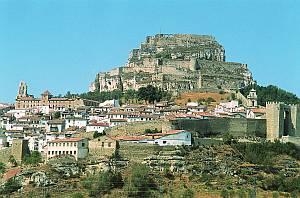 The Morella skyline stands out against the horizon, its houses perching on rocks, embraced by high walls. A significant monumental ensemble is home to secular traditions, customs and festivals, which make it fascinating place to spend some time. Visitors can have a marvellous time wandering the streets of this town, a historical-artistic complex.
What's more, this weekend, the second in September, there is a traditional fair which has been held for centuries. When King Jaume I of Aragon occupied the lands of Morella in the 13th century, he gave much support to trade and animal breeding, and took a decision that would make this town important forever by bestowing the privilege to hold a weekly market and an annual livestock fair.
Come and discover Morella! You'll be surprised!
More Information:
Tourist Info Morella
Plaza San Miguel, s/n
12300  Morella, Castellón-Castelló  (Comunidad Valenciana)
morella@touristinfo.net
www.morellaturistica.com
Tel.:+34 964173032
Fax.:+34 964161071