Black truffles from Morella, a winter culinary gem
Publishing date 2/02/2015
During the colder months, the intense aroma of truffle invades the winding streets in the town of Morella. It is then, between January and March, when the tuber melanosporum reaches its peak, and the city hosts the Gastronomic Days dedicated exclusively to the truffle, the winter treasure that grows in the lands of Morella. Truffles with almost everything and made a thousand ways! Come to Morella and taste this gem of gastronomy, do not let them tell you.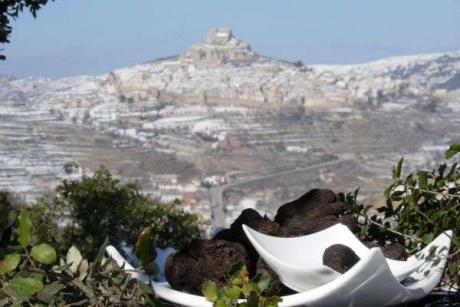 The truffle is a fundamental element of innovation and modernity of both the traditional and modern cuisine of Morella. In turn, year after year, the restaurant cooks from Morella outdo themselves to offer the most exquisite menus featuring this gem of gastronomy.

The black truffle is a delicacy of rainy perfume and disturbing aspect, a winter gift from the lands of Morella. And this black and aphrodisiac fruit is the culinary queen of the coldest days. A black diamond, full of aroma and flavor, bringing personality to the kitchen, which becomes a true gastronomic treasure.

The celebration of the 2015 Truffle Gastronomic Days, celebrated until March the 15th, will allow the lovers of good food to enjoy the finest cuisine, made with this valued tuber.

Come and check it: you will fall in love the moment you taste it!
Fotos: Patronato de Turismo de Morella