Montanejos by bicycle
Publishing date 5/05/2014
With 1050 metres of slopes and an overall length of 42 kilometres, the seventh edition of the Montanejos Mountain Bike March is an exciting adventure for all bicycle lovers. If you enjoy life on two wheels, come to Montanejos on May 10. You'll have the time of your life.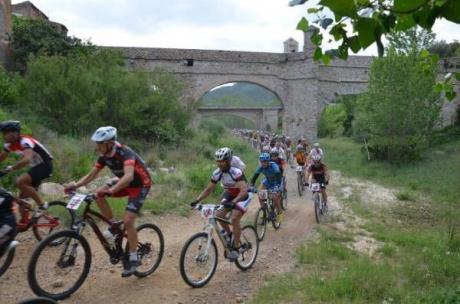 The VII Montanejos Mountain Bike March is a part of the legendary Muntanyes de Castelló (Castelló mountains) Mountain Bike Circuit which began last April and will continue until November with the celebration of the Alcalà de Xivert Mountain Bike competition. The Muntanyes de Castelló Mountain Bike Circuit was born in 2011, with the goal of providing a calendar of bicycle tourist marches in different municipalities of the province of Castellón, with common criteria and services to improve the quality of the events. The goal of these events is to showcase the heartland of the province and to promote popular practice of sustainable and responsible mountain biking. Furthermore, these events were intended to promote the local economy, and a number of clubs and associations organise the Muntanyes de Castelló Mountain Bike Circuit - BMW Mauberato in which any and all cyclists can participate freely.
The IV Muntanyes de Castelló Mountain Bike Circuit - BMW Maberauto is made up by a series of bicycle tourism marches that begin on April 13 and end on November 2, where runners will obtain an individual rank for each test and a general rank divided by categories. It is necessary to participate in a minimum of eight tests out of all tests to opt to the general final classification, and to 11 tests to opt to the corresponding prizes.
Don't forget, if you enjoy mountain biking, get moving and come to Montanejos this Saturday.