MANISES EN FIESTAS 2017
Actividades lúdicas para pequeños y mayores, organizadas por la Regidoría de Festes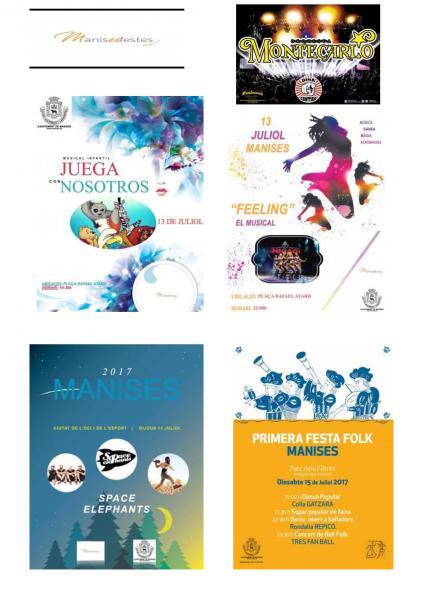 Description:
Programa de fiestas
Dates:

Starts: 10/07/2017
Ends: 20/07/2017
Address:
Plaça del Castell, 1
City: Manises
Phone numbers:
El jueves 13 de julio a las 18h, "Juega con nosotros" Musical Infantil, a la pl. Rafael Atard
Espectáculo Musical donde se "cantarán" los cuentos más conocidos de siempre. Un espectáculo ameno y divertido donde niños y mayores podrán disfrutar de una velada inolvidable transportándose al mundo mágico de los cuentos, donde una compañía formada por 8 personas, pondrán al público asistente para bailar y cantar los temas más conocidos.
Clarita es una niña con una enorme prisa por hacerse mayor, un día de verano cuando Clara pronuncia las palabras trágicas con las cuales todos sus peluches cobran vida, estos y especial Orejones un duende mágico intentarán convencer a Clara que tiene que vivir el momento, que ser niño es divertido y que, jugando, cantando ella era feliz y que tenía que aprovecharlo
El jueves 13 de julio a las 23h, "Feeling" El Musical, a la pl. Rafael Atard.
"Feeling" es un musical que nos hará disfrutar por sus magníficas coreografías y su magistral puesta en escena cargada de momentos increíbles. Una representación llena de belleza, fuerza y de sorprendentes actuaciones en riguroso directo que seducirán al público.
El jueves 13 de julio a les 23.30, concierto de "Space Elephants", a la Ciutat de l'Oci y l'Esport
Edgar Navarro, Rubén Thrax y varios animadores forman Space Elephants. Estos valencianos llevan desde 2011 convirtiendo sus actuaciones en una fiesta gracias a sesiones heterogéneas, en las que mezclan EDM, dubstep, rock e indietrónica. Parte imprescindible de sus shows es la interacción con el público, haciéndolo partícipe de sus animaciones. Además de pinchar en los mejores clubes del estado, son residentes de la sala LA3 CLUB, en Valencia.
El sábado 15 de julio, Primera Festa Folk Manises, en el parc dels Filtres.
21h: Dansà Popular - Colla GATZARA
21.30h: Sopar popular de faixa
22.30h: Sarau obert a balladors - Rondalla REPICÓ
23.30h: Concert de Ball Folk - TRES FAN BALL
El domingo 16 de julio a les 22:30h, Espectáculo musical Club de Ball Esportiu "Canciones de nuestra vida" al Barri el Carmen
El lunes 17 de julio de 10 a14h , Xaranga mercat Els Filtres (i ambulant).
El lunes 17 de julio a les 19:30h, Festa per als majors a la Pl. Rafael Atard.
Bocadillo y orquestra.
El lunes 17 de julio a les 23.30h, Carnavalia On Tour, a la Ciutat de l'Oci y l'Esport.
Carnavalia es fiesta, show, diversión y sobre todo muy buen rollo
El martes 18 de julio a les 24h, Orquestra Montecarlo a la estación de metro "Manises
Durante las Fiestas:
JUEGOS PARA LOS PEQUEÑOS
Los días 10, 11, 14 i 17 de julio, de 18:30h a 20:30h, juegos para los pequeños.
10 de julio - Pl. Rafael Atard
Fes Joc. Jocs tradicionals valencians
11 de julio - Albereda
Jocs per a riure
14 de juliol - Pl. Vicente Barberà
Jocs per a riure i gaudir
17 de julio - El Carmen
Jocs gegants i sorprenents
PARQUE INFANTIL AQUÀTICO
Parque infantil acuático los días 13, 14, 15 i 16 de julio de 10h a 13.30h
13 de julio
10h a 13.30h: Pl. Vicente Barberà Reg
14 de julio
10h a 13.30h: Pl. Rafael Atard
15 de julio
10h a 13.30h: Passeig Joan Fuster
16 de julio
10h a 13.30h: Barri El Carmen
Information compiled by:
TOURIST INFO MANISES (eng)
Avenida del Tramvies, 15
46940 Valencia
Phone: 961525609
Fax: 961520931
This office does not assume responsibility for sudden changes or variations of the events published on this site.