Fiesta de la Virgen de la Candelaria 2014 en Manises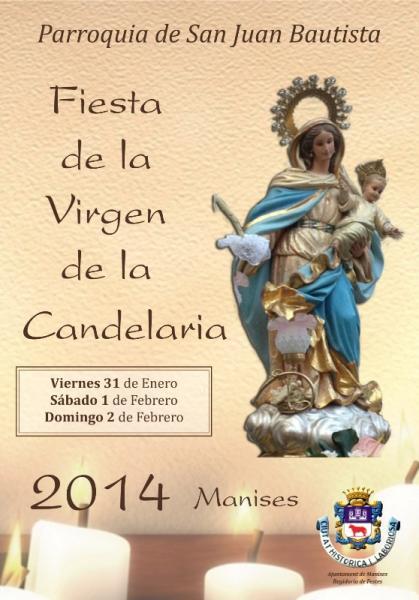 Description:
Programa de fiestas
Dates:

Starts: 31/01/2014
Ends: 02/02/2014
VIERNES 31 DE ENERO
17:00 horas:Recogida de las clavariesas acompañ adas de tabalet i dolçaina. Desde calle Mayor nº 73 hacia Residencia San Francisco y San Vicente.
18:30 horas: Visita Residencia San Francisco y San Vicente, donde se obsequiará a los ancianos con una tarta.
20:00 horas: Recepción en el Salón de plenos del Ayuntamiento del Ilmo. Alcalde de Manises Sr. D. Francisco Izquierdo, se le obsequiará con un recuerdo conmemorativo de las clavariesas de la Virgen de la Candelaria 2014.
SÁBADO 1 DE FEBRERO
De 10:00 a 13:00 horas: Parque infantil con hinchables y talleres de animaciónenla Casa de la Cultura.
D e 18:00 a 19:00 horas: Merienda para los niñ@s compuesta de chocolate y ensaimadas, hasta fin de existencias.
De19:00 a 20:30 horas: Actividades de animación.
DOMINGO 2 DE FEBRERO
11:00 horas: MISA SOLEMNE, con bendición especial para las madres que dieron a luz el pasado año y consagración de sus hijos.
Durante la celebración participarán las niñas-clavariesas con las lecturas y ofrenda de la tarta. Al finalizar la Santa Misa, se sorteará la clásica tarta entre las abonadas de la loterı́a. Después las familias de los recién nacidos se podrán fotograiar junto a la imagen de la Virgen de la Cadelaria.
18:00 horas: PROCESION en honor a la Virgen de la Candelaria, desde la iglesia San Juan Bautista siguiendo por calle Mayor, Cura Catalá, Plaza del Castell, Sagrario y Obispo Soler. Cerrará la procesión la Banda de Música L'Artística Manisense.
19:30 horas: Al inalizar la procesión se dispararán fuegos artiiciales, con lo que finalizarán las fiestas de la Virgen de la Candelaria del presente año2014.
Information compiled by:
TOURIST INFO MANISES (eng)
Avenida del Tramvies, 15
46940 Valencia
Phone: 961525609
Fax: 961520931
This office does not assume responsibility for sudden changes or variations of the events published on this site.