Exposición "Connectats pel valencià".
Manises conmemora la fiesta del 9 de Octubre con la exposición «Connectats por el valencià».
Materiales de promoción del valenciano elaborados por la Unidad de Normalización Lingüística y l'Escola d'Art y Superior de Diseño de Valencia estarán a vuestra disposición, desde el 3 hasta el 21 de octubre, en el MUMAF, Museo de Manises de Fotografía.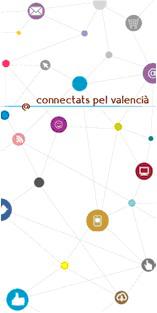 Description:
Actividades culturales
Dates:

Starts: 05/10/2016
Ends: 21/10/2016
Address:
Av. dels Tramvies, 15
City: Manises
Phone numbers:
«Connectats por el valencià» es una exposición de materiales usados en campañas para la promoción lingüística en el ámbito local fruto de la colaboración con la Unidad de Normalización Lingüística de la Diputación de Valencia con l'Escola d'Art y Superior de Diseño de Valencia (EASDV). Gracias al trabajo de las agencias de promoción del valenciano (AVIVA), con las que se colabora de forma estrecha, planificando las campañas, haciendo la búsqueda terminológica y compartiendo recursos, estas llegan a los ayuntamientos valencianos que las distribuyen por comercios, escuelas y asociaciones.
Los alumnos de l'EASDV han puesto imágenes a nuestras palabras y han añadido valores como, calidad, alegría, modernidad, sentido práctico.
En los diferentes ámbitos de que se compone la exposición se pueden ver campañas por sectores: el comercio, deportes, escuela, el mundo de la fiesta y la web 2.0. Se muestran aspectos de la vida cotidiana donde la lengua está muy viva y también otros, especializados, donde caben los neologismos o los cultismos.
Como dice el texto de presentación de la exposición: «La nuestra lengua es una de las más presentes en Internet, hecho que demuestra la vitalidad que tiene; sin embargo, en ocasiones, nos hay que recordar como es de importante. El valenciano es la lengua propia de nuestro pueblo, quizá el valor más distintivo, y es necesario que sea también el valor que nos cohesiona.
Amamos nuestra lengua de la mejor manera: hablando, escribiéndola, transmitiendo a los nuestros hijos y acogiendo en valenciano los recién llegados.
This office does not assume responsibility for sudden changes or variations of the events published on this site.