Exposición Artesanos "Festa de la Ceràmica" de Manises 2015
Interesante muestra de la cerámica más artesanal donde se podrán ver los trabajos realizados por artesanos participantes en la Festa de la Ceràmica de Manises 2015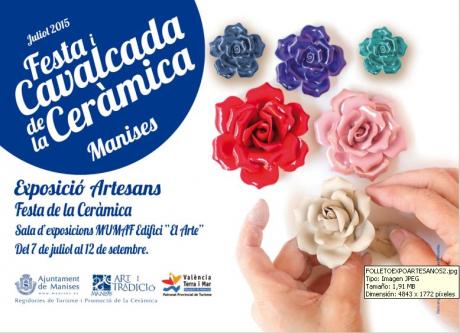 Description:
Actividades culturales
Dates:

Starts: 07/07/2015
Ends: 12/09/2015
Del 7 de julio al 12 de septiembre se podrá ver en la Sala de exposiciones MUMAF una colección de piezas realizadas por los distintos artesanos participantes en la Festa de la Ceràmica de Manises 2015.
En esta muestra se podrán contemplar desde los trabajos más clásicos hasta las creaciones más vanguardistas.
PARTICIPANTES:
ANA MARTÍNEZ DELICADO
655411882
Socarrats del s. XIII al s. XV.
Souvenirs en cerámica.
Joyería en cerámica.
ANTONIO CORDERO HERRERA
961549450/691354686
Reproducción de piezas de cerámica de diferente tipología en escultura. Diseño decorativo en cerámica.
ARTURO MORA- LA CERÁMICA DE REFLEJO DORADO
636888093
Cerámica de reflejo metálico
CARLOS ENTRAIGAS LÓPEZ
654696925
Escultura.
CARMEN MARCO DASÍ
645612540
Cerámica pictórica.
CÓPPOLA MONTAÑA
601265890
Cerámica valenciana estilo S.XVIII
DAVID TADEO MARTÍ
695902697
Escultura modernista.
DRAC CERÀMIC MANISES
654960627
658605312
Artesanía Conceptual.
ESCOLA D'ART I SUPERIOR DE CERÀMICA DE MANISES
961206985
Trabajos de alumnos de la ES+CM .
FRANCISCO ÁLVAREZ VERDE
666852455
961530556
Cerámica S. XVIII y Socarrats
FRANCISCO HUERTA CAMPOS
675466434
Cerámica decorativa
FRANCISCO MAS TORTOSA
696686822
Cerámica abstracta artesanal.
GLORIA LACRUZ
677773003
Cerámica decorativa. Esculturas.
ISIDRO ANDREU MAESTRO
616540657
Cerámica creativa de autor
KARINE PASCUAL MOYANO
636423061
http://karine-pascual.blogspot.com
Cerámica creativa
LA CERÁMICA VALENCIANA DE JOSÉ GIMENO MARTÍNEZ
Cerámica tradicional valenciana de estilos gótico, barroco y popular de los siglos XV al XIX. Azulejos para revestimiento y decoración. Cerámica para la mesa y el hogar. Cerámica de vanguardia. Proyectos especiales. Regalos de empresa.
MIGUEL CARRASCOSA SÁEZ
639621026
miguelcarrascosa@telefonica.net
Escultura cerámica.
NACHO SUMINISTROS CERÁMICOS
661500292 / 963413096
Empresa especializada en venta de productos cerámicos e impartición de cursos especializados.
PATRO BURGOS PALAU
625300123
Joyería contemporánea en cerámica.
PEDRO PABLO PEÑA NADAL
639022691
Reproducciones y recreaciones de socarrats del S.XIV al S.XVI.
PEPE ROYO ALCARAZ
608982178
Cerámica tradicional y de autor.
PILAR VALDERRAMA ÁLVAREZ
637299840
Joyería contemporánea en cerámica.
PLAT Y BOL, S.L.
961522196
Cerámica artística y funcional de elaboración artesanal para la mesa y la cocina. Piezas de decoración.
PORCELANAS MERCEDES
961546072
627536244
Bisutería con flores, en miniatura hechas en porcelana de alta temperatura.
RAFAEL MORA ESTEVE
696680439
Cerámica tradicional artistica.
ROSA GARCÍA CAMPOS
615985413
Mimbre contemporáneo.
Information compiled by:
TOURIST INFO MANISES (eng)
Avenida del Tramvies, 15
46940 Valencia
Phone: 961525609
Fax: 961520931
This office does not assume responsibility for sudden changes or variations of the events published on this site.