DMT: "Maniser@ sé turista en tu ciudad"
"Maniser@ sé turista en tu ciudad"
Para celebrar el día mundial del turismo (DMT) el próximo 26 de septiembre tienes la oportunidad de conocer los atractivos locales de Manises.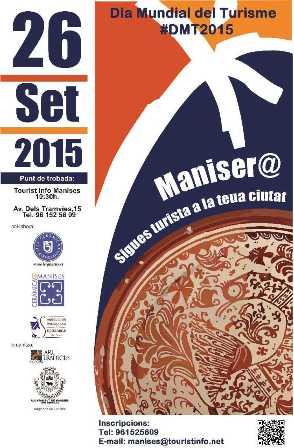 Description:
Actividades culturales
Dates:

Starts: 26/09/2015
Ends: 26/09/2015
La iniciativa pretende dar a conocer los servicios que ofrece la oficina Tourist Info al propio ciudadano y los atractivos turísticos locales más próximos, poniéndose el maniser@, por un día, en la piel de sus turistas.
Tomando como punto de encuentro la Tourist Info Manises, sita en la Av. Dels Tramvíes,15 haremos un breve recorrido por el casco antiguo de nuestro municipio, comenzando por el MUMAF (Museo de Manises de la Fotografía), continuando la visita con uno de los talleres más emblemáticos del municipio La Cerámica Valenciana de José Gimenoy las instalaciones de la Asociación Valenciana de Cerámica AVEC-Gremio. Para finalizar nos detendremos especialmente en elMuseo de Cerámica de Manises(MCM),museo que alberga una colección de cerámica desde la época medieval hasta la actualidad y que es el reflejo de todos los avatares de la historia local.
El horario de la visita será a las 10:30h.-13:30H.
Punto de encuentro y salida: Tourist Info Manises 10:30h.
Para más información: Tourist Info Manises
Av. Dels Tramvíes,15
Tel. 96 152 56 09
Inscripción gratuita vía telefónica o e-mail: manises@touristinfo.net turismo@manises.es
RECORRIDO:
1. 10:30h. Punto de Encuentro: Tourist Info Manises-Museo de Manises de Fotografía (MUMAF).
2. Taller La Cerámica Valenciana de José Gimeno
3. Instalaciones Asociación Valenciana de Cerámica AVEC-Gremio.
4. Museo de Cerámica de Manises (MCM).
5. Pequeño recorrido por el Casco Antiguo: Avenida Blasco Ibáñez, Iglesia Parroquial de San Juan Bautista y Capelleta de Sant Antoni. Y las emblemáticas fachadas: Antigua Estación de Tren, Fachada de la Antigua Fábrica de cerámica de Fco. Valldecabres, Antigua Escuela de Cerámica (Paseo Guillermo de Osma), Mercado Municipal "Els Filtres"y Parque "Els Filtres".
Information compiled by:
TOURIST INFO MANISES (eng)
Avenida del Tramvies, 15
46940 Valencia
Phone: 961525609
Fax: 961520931
This office does not assume responsibility for sudden changes or variations of the events published on this site.