Día Internacional de la Dona Manises 2014
Programa de actos celebración día internacional de la Dona en Manises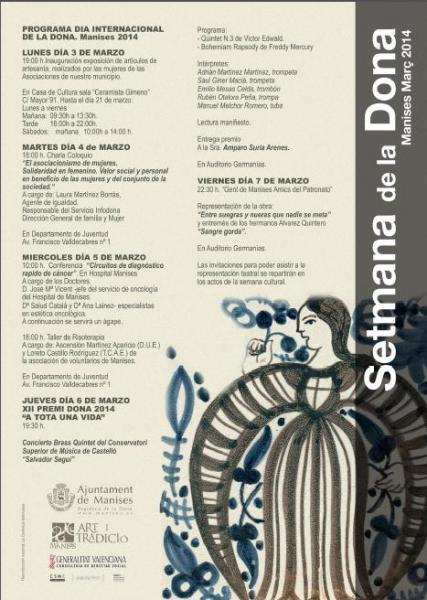 Description:
Conferencias
Dates:

Starts: 03/03/2014
Ends: 07/03/2014
ACTOS CELEBRACIÓN DÍA INTERNACIONAL DE LA MUJER AÑO 2014
LUNES DÍA 3 DE MARZO:
19:00 h.
Inauguración exposición de artículos de artesanía, realizados por las mujeres de las Asociaciones de nuestro municipio.
En Casa de Cultura, sala "Ceramista Gimeno"
C/ Mayor 91
Horarios, hasta el día 21 de marzo:
Lunes a viernes: mañana 09:30h a 13:30h.
tarde 16:00h a 22:00h.
Sábados: mañana 10:00h a 14:00 h.
MARTES DÍA 4 de MARZO:
18:00 h.
Charla-coloquio "El asociacionismo de mujeres. Solidaridad en Femenino. Valor social y personal en beneficio de las mujeres y del conjunto de la sociedad."
A cargo de: Dª Laura Martínez Borrás, Agente de igualdad.
Responsable del Servicio Infodona
Dirección General de familia y Mujer
En Departamento de Juventud
Av. Francisco Valldecabres nº 1
MIERCOLES DÍA 5 DE MARZO:
10:00 h.
Conferencia "Circuitos de diagnóstico rápido de cáncer"
A cargo de: D. José Mª Vicent -jefe del servicio de oncología del Hospital de Manises-
Dª Salud Catalá y Dª Ana Lainez- especialistas en estética oncológica-
A continuación se servirá un ágape a las personas asistentes.
En Hospital Manises
18:00 h.
Taller de Risoterapia
A cargo de: Ascensión Martínez Aparicio(D.U.E.) y Loreto Castillo Rodríguez (T.C.A.E.) pertenecientes a la asociación de voluntarios de Manises.
En Departamento de Juventud
Av. Francisco Valldecabres nº 1
JUEVES DÍA 6 DE MARZO:
19:30 h.
XII PREMIO DONA 2014"A TODA UNA VIDA"
A la Sra. Dª Amparo Suria Arenes.
Lectura manifiesto.
Concierto Bras Quintet del Conservatorio Superior de Música de Castellón "Salvador Seguí".
Interpretes: Adrián Martínez Martínez (trompeta); Saúl Giner Maciá (trompeta); Emilio Mesas Celda (trombón); Rubén Otalora Peña (trompa); Manuel Melchor Romero (tuba).
En Auditorio Germanías
C/ García Lorca nº 6
VIERNES DÍA 7 DE MARZO:
22:30 h.
"Gent de Manises Amics del Patronato"
Representación de la obra: "Entre suegras y nueras que nadie se meta" y entremés de los hermanos Álvarez Quintero "Sangre gorda".
En Auditorio Germanías
C/ García Lorca nº 6
Las invitaciones para poder asistir a la representación teatral se repartirán en los actos de la semana cultural.
Information compiled by:
TOURIST INFO MANISES (eng)
Avenida del Tramvies, 15
46940 Valencia
Phone: 961525609
Fax: 961520931
This office does not assume responsibility for sudden changes or variations of the events published on this site.